On eve of World Youth Skills Day, MoS Rajeev Chandrasekhar flags off first batch of NamdaArt products for export to UK
BY EOK NEWS DESK
New Delhi, July 14: The Namda craft of Kashmir is being successfully revived under a Skill India's Pilot Project as part of the Pradhan Mantri Kaushal Vikas Yojana (PMKVY), with nearly 2,200 candidates from across six districts of the state, receiving training in the dying art form. Skill India revives dying Namda Art, Sparks J&K's cultural renaissance
Union Minister of State for Skill Development and Entrepreneurshipand Electronics and IT, Shri Rajeev Chandrasekhar today flagged off the first batch of Namda Art products for exportto the United Kingdom (UK).
The project sets a great example of the public-private partnership (PPP) model in the field of skill development, as it is being implemented in collaboration with local industry partners.
Under this initiative, nearly 2,200 candidates have been trained in the art of Namda craft, representing a significant milestone in preserving this traditional craft and empowering the local weavers and artisans. The project has successfully trained individuals across six districts of Kashmir, namely Srinagar, Baramulla, Ganderbal, Bandipora, Budgam, and Anantnag.
The government's commitment to skilling, reskilling, and upskilling India's youth remains steadfast under the visionary leadership of our Hon'ble Prime Minister Shri Narendra Modi. The successful implementation of this pilot project in J&K, with the support of local industry partners such as Mir Handicrafts and Srinagar Carpet Training and Market Centre, exemplifies the power of public-private partnerships in driving skill development and attracting investments for economic development.
Congratulating on the achievement, Shri Rajeev Chandrasekhar, Minister of State, Ministry of Skill Development and Entrepreneurship; and Ministry of Electronics and IT, said, "We had introduced the Namda project in 2021, and it is extremely satisfying to see the outcome that perfectly aligns with our Hon'ble Prime Minister's vision of NayaBharat, NayeAvsar, NayiSamridhi' which emphasizes thatskilling is about creating new opportunities, and new prosperities. As a small part of this large effort taken by the artisans, and the Handicrafts Sector Skill Council, I wish you all a tremendous amount of success and prosperity of this art, and it is a proud moment for us to achieve this milestone."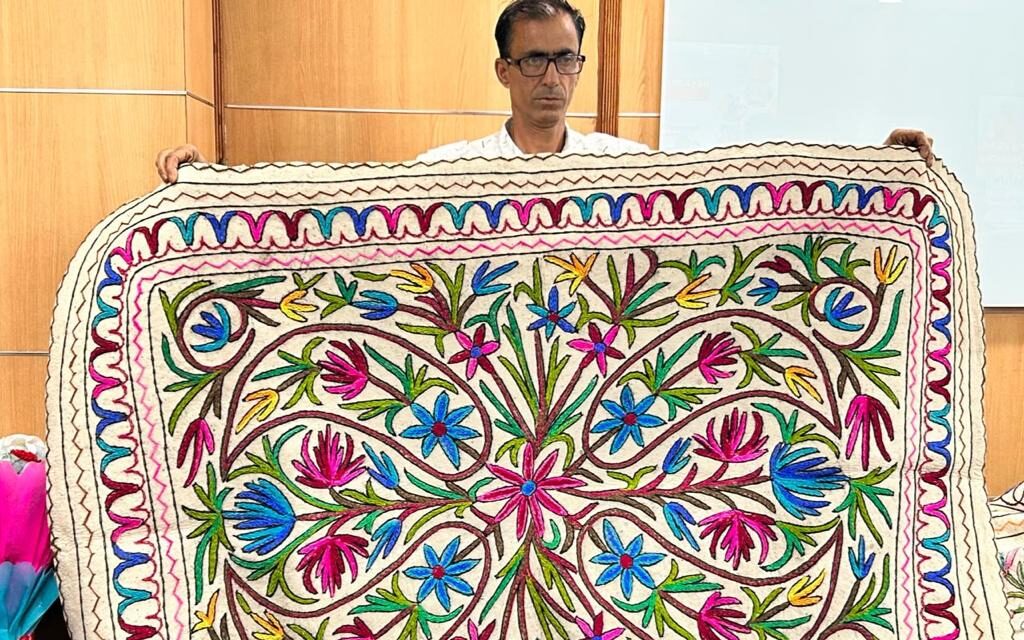 He said the Namda Project exemplifies an extremely satisfying and defining outcome of PM Narendra Modi's vision for Skill India which is about empowering people and creating opportunities forIn 2021, Shri Rajeev Chandrasekhar visited Jammu & Kashmir. Post his visit, he expressed a need to organise a project for the preservation and revival of dying traditional craft in the region as handicrafts sector is a major contributor in their economy and an employment generator.
Namda craft is a rug made of sheep wool through felting technique instead of normal weaving process. Due to low availability of raw material, lack of skilled manpower and marketing techniques, the export of this craft has declined almost 100 percent between 1998 and 2008. Therefore, through this specialproject under PMKVY, the Ministry of Skill Development and Entrepreneurship (MSDE) has designed short-term training curriculum to preserve this endangered craft. The project has been implemented in 25 batches in 3 cycles of training. Each training program was approximately of three and half months,which resulted in the cycles being completed in approximately 14 – 16 months.
The Namda project is an industry-based training program with beneficiaries involved in Namda CraftsProduction who will contribute towards preserving and reviving the rich heritage associated with Namdacraft in Kashmir. This will also improve the access of existing artisans of Namda crafts cluster in Kashmir and will improve their prospects of employability.