The decision to revoke Article 370 in 2019 marked a turning point in Jammu and Kashmir's history, unleashing a golden period of tourism and prosperity.
By Ajaz Rashid
Jammu and Kashmir, once synonymous with turmoil and unrest, has embarked on a remarkable journey of transformation over the past four years, guided by the visionary leadership of Prime Minister Narendra Modi. The pivotal decision to revoke Article 370 in 2019 marked the beginning of a new era, ushering in positive changes that have brought peace, prosperity, and progress to the region. Article 370 rollback Reshapes J&K's Turmoil-Defined Reputation
Under the steadfast guidance of Lieutenant Governor Manoj Sinha, Jammu and Kashmir has achieved remarkable milestones that have propelled the region towards newfound hope and opportunities. The transformation is evident across various sectors, each contributing to the holistic development of the region.
Boost to Tourism: A Golden Period Unveiled
Under the visionary leadership of Prime Minister Narendra Modi, Jammu and Kashmir (J&K) has undergone a profound transformation, particularly in the tourism sector. The historic decision to revoke Article 370 in 2019 has paved the way for positive changes, bringing newfound peace and prosperity to the region.
The introduction of 75 offbeat tourist destinations has significantly expanded the allure of J&K, attracting a record-breaking 1.88 crore tourists in 2022. This surge in visitors has not only boosted the economy but has also led to the registration of 1310 homestays, fostering a deeper connection with local culture.
Gurez Valley's recognition as India's top offbeat destination highlights the unique charm of the region. The addition of 300 new tourist destinations and trekking routes has further enriched the tourism experience, catering to both adventurers and filmmakers seeking captivating backdrops.
Enhanced Connectivity: Paving the Way for Socio-Economic Progress
One of the cornerstones of J&K's transformation has been the massive investment in road infrastructure, leading to reduced travel times and smoother movement of goods, services, and people. The average daily road macadamisation has more than doubled, reaching 15.75 KM per day (2020-23), with a peak achievement of 20.84 KM per day (2021-22). This impressive progress is reflected in the construction of 6912 kilometers of roads under the PMGSY initiative, earning J&K the prestigious 3rd rank nationally.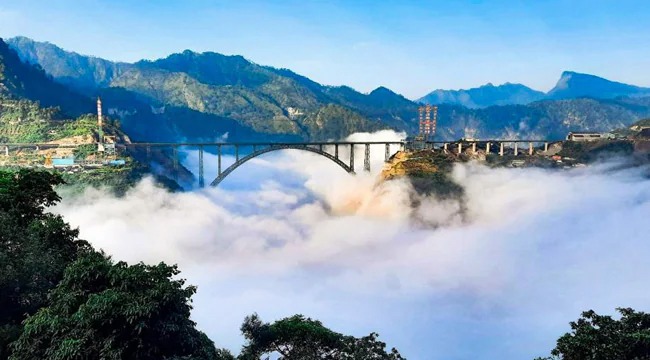 The construction of the world's tallest railway bridge over the Chenab River and the investment in building nine tunnels across J&K have further enhanced the region's connectivity and infrastructure landscape.
Amrit Sarovars: Creating Prosperity and Sustainability
Jammu and Kashmir has exceeded expectations in the Amrit Sarovar Mission, with 75 Amrit Sarovars established in every district, surpassing initial targets. The project, supported by the Mahatma Gandhi National Rural Employment Guarantee Act (MGNREGA), has led to substantial employment generation, benefiting over 600,000 individuals and 133,537 households. The mission's impact extends beyond socio-economic growth, contributing to the irrigation of 15,331 hectares of land and attracting tourism, benefiting both visitors and livestock.
Uplifting Tribal Communities: Education, Livelihood, and Heritage Preservation
Initiatives encompassing Forest Rights Certificates, Education Investments, Livelihood Promotion, and Cultural Preservation have brought newfound prosperity to tribal communities in J&K. The issuance of 3032 forest rights certificates and the completion of the first-ever survey of transhuman nomadic tribal populations mark historic achievements.
The commitment to education is evident in the annual outlay of Rs 49 crore for scholarships and the establishment of 221 smart schools in tribal areas. Progress continues with the development of 29 cluster tribal model villages, 14 milk villages, and 24 ST/G&B Hostels.
J&K's HADP: Revolutionizing Agriculture, Doubling Incomes, and Boosting Exports
Jammu and Kashmir's administration is driving the transformative Holistic Agriculture Development Plan (HADP), focusing on doubling farmer incomes, generating jobs, and enhancing crop yield. High-Density Plantation, Dairy Development, and Food Processing are central to this initiative, creating an ecosystem for growth. Kissan Khidmat Ghars and data-driven hubs are fostering prosperity, with efforts promising increased incomes, youth employment, and sustainable agriculture.
Empowering Women: Jal Jeevan Mission Transforms Lives in J&K
The Jal Jeevan Mission is revolutionizing rural water access in J&K, particularly benefiting women by reducing traditional water-fetching burdens. Women's active involvement in managing water supply, quality control, and training has empowered them as water managers. The mission's success is highlighted by achieving 100% tap water connections in schools and Anganwadi centers ahead of schedule.
Jammu & Kashmir's Domicile Certificates: A Leap Towards Equality and Inclusivity
The issuance of domicile certificates in J&K has been a significant stride towards achieving equality and inclusivity. Over 61 lakh domicile certificates have been issued, correcting historical injustices and providing equal opportunities for marginalized communities.
Revival of a Historic Journey of Faith: Srinagar's Peaceful Renaissance
Lieutenant Governor Manoj Sinha's participation in the Youm-e-Ashoora Procession in Srinagar's Bota Kadal area marked a significant turning point, emphasizing the government's dedication to communal harmony and religious inclusivity. His involvement rekindled commitment to preserving cultural heritage and promoting coexistence.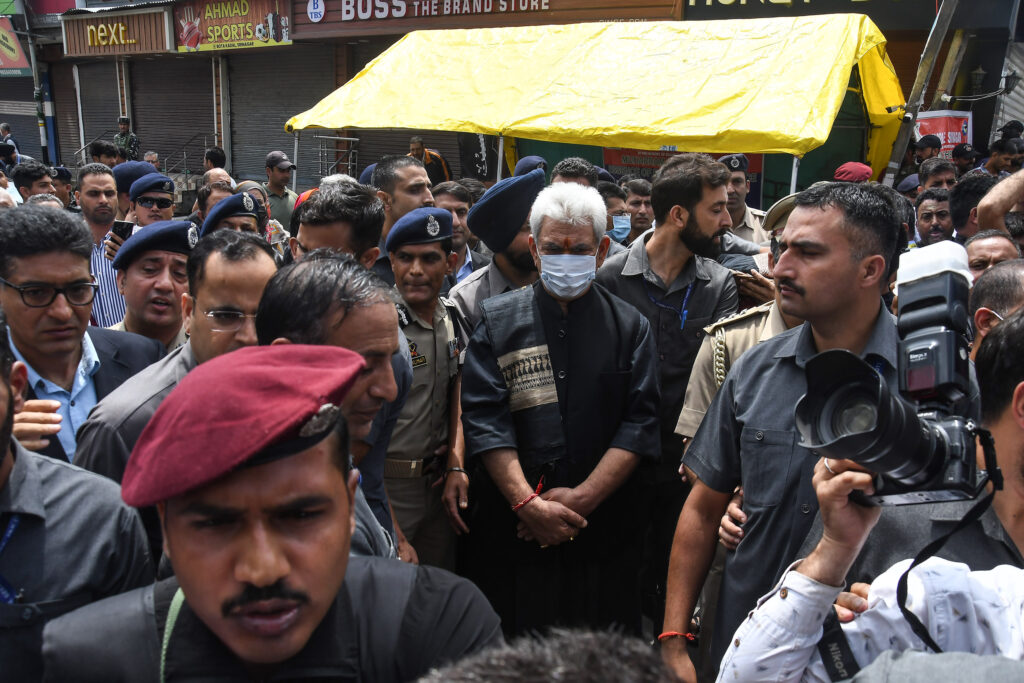 Igniting Youth & Women Empowerment
JKEDI's impactful journey has revolutionized J&K's startup ecosystem, especially focusing on Mission Youth and women's empowerment. The annual Startup Leadership Summit provides a platform for budding entrepreneurs, fostering innovation and economic growth. JKEDI's efforts have propelled employment, technology, and services, championing women and youth to drive positive change.
J&K: Pioneering Transformative Sanitation Practices for a Cleaner Future
J&K's commitment to sustainable sanitation practices, including initiatives like 'Swachhata Karwaan' and the 'Give Polythene Get Gold' campaign, has earned acclaim. The region's dedication to cleanliness and hygiene serves as a model for others to follow.
Digital J&K Transforms Governance: Over 600 Services Online
J&K's digital transformation has introduced over 600 government services online, ushering in a new era of efficient and accessible governance. The E-Unnat portal, Rapid Assessment System (RAS) integration, and collaboration with popular platforms have enhanced citizen engagement and administrative efficiency.
Land Records Registration Revolutionized with Online Access and Independent Department
The establishment of an Independent Department of Registration and the implementation of E-Stamping rules have modernized land records registration in J&K. The move to digital platforms has simplified the process, making it more convenient and transparent for citizens.
Jammu and Kashmir's journey over the past four years under Prime Minister Modi's leadership has been marked by transformative progress across various sectors. From tourism and connectivity to tribal empowerment and digitalization, the region has made significant strides towards peace, prosperity, and progress. These efforts reflect a commitment to a brighter and more inclusive future for the people of J&K.