New Delhi: Congress president Rahul Gandhi has been invited by the government for the Republic Day parade on Friday, but only to be seated in the fourth row, according to Congress leaders.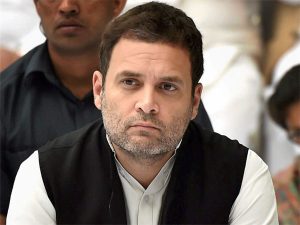 However, there has been no official confirmation on the seating arrangement of political leaders as well as ministers.
"We have come to know that the Congress president has been assigned a seat in the fourth row, unlike in past when they used to occupy a seat in the front row during the Republic Day parade," said a senior Congress leader, on condition of anonymity.
The Congress leader alleged that by doing so the Modi government was resorting to "cheap politics".
The leader, however, maintained that Rahul Gandhi will be attending the function irrespective of the seating arrangements.
Another Congress leader said the move was aimed at "humiliating" the Congress leadership at the public function that will be attended by head of governments/states of all the 10 ASEAN countries.
Congress sources said the party president has always been seated in the front row since independence, including Sonia Gandhi, who as the party chief has always been given a seat in the front row.
BJP president Amit Shah has also been always assigned a seat in the front row at the Republic Day parade ever since this government came to power in 2014.