Srinagar: Jammu and Kashmir Police on Friday detained a Pune-based girl, alleged to be an ISIS suicide bomber, from south Kashmir, officials said.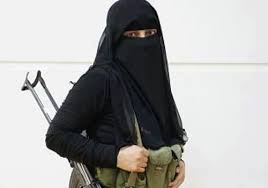 Meanwhile, official sources on Thursday said she is the same woman who was questioned by the Pune Anti-Terrorism Squad in 2015, when it came to notice that she had been radicalised after coming in contact with ISIS supporters abroad.
She was planning to travel to Syria, the ATS had then claimed. The woman, a class XI student at a Pune college, was subsequently sent for a de-radicalisation programme by the ATS.
A high alert was sounded in Kashmir following an intelligence input that a non-Kashmiri woman suicide bomber might disrupt the Republic Day celebrations in the valley.
According to a message circulated from the office of Inspector General of Police (Kashmir) to all district police heads and chief of security wing in Kashmir, "there is a strong input" that an 18-year-old woman non-Kashmiri woman might "cause a suicide bomb explosion" near or inside the Republic Day parade in Kashmir.
"All are directed to please ensure that frisking of ladies at the (venues) is done meticulously and with utmost caution so as to thwart the designs of anti-national elements," the message read.
The suspect was believed to have already arrived in the valley. Director General of Police SP Vaid, however, sought to downplay the reports and assured foolproof security for the Republic Day celebrations.
Security forces have been deployed in strength at strategic locations in the city to prevent terrorists from moving around. The law enforcing agencies are carrying out random frisking and searches of vehicles entering the city.
This year the main Republic Day function was held at Sher-e-Kashmir Cricket Stadium instead of the regular venue — Bakshi Stadium, which is closed for renovations.
Traffic police had issued an advisory for movement of vehicles between the city centre and south Kashmir and no vehicle was permitted to move along the Ram Munshi Bagh-TRC stretch of the road during the rehearsal and Republic Day function.