The Powerful Medium Used by Prime Minister Modi to Promote Health and Well-being
By Dr Vinod K Paul
The health and development of a nation are inextricably linked. Without a healthy population, a country cannot achieve overall growth. India's government, led by Prime Minister Narendra Modi, recognizes this fact and has taken significant steps to prepare India's healthcare system for the future. Mann Ki Baat
Prime Minister Modi has made improving the health of Indian citizens a top priority, emphasizing the need for sustained action to strengthen India's health services. The government has undertaken deep structural reforms to enhance the healthcare sector and has implemented strategies to achieve nationwide coverage.
The government's commitment to this goal is unwavering, and it has created an environment conducive to achieving saturation-level coverage. With these efforts, India's healthcare system is poised to become more robust, providing greater access and better health outcomes for all citizens.
The Government's proactive approach has led to a paradigm shift in the healthcare sector. Today, the focus is on both health and wellness, rather than just treating the sick. The Government has rolled out a number of schemes to boost India's healthcare ecosystem. The world's largest government-funded healthcare program, Ayushman Bharat (AB-PMJAY), Pradhan Mantri Ayushman Bharat Health Infrastructure Mission (PM-ABHIM), Ayushman Bharat Digital Mission (ABDM), a strengthened National Health Mission (NHM), Pradhan Mantri Surakshit Matritva Abhiyan (PMSMA), e-Sanjeevani OPD, and Pradhan Mantri Bhartiya Janaushadhi Pariyojana (PMBJP) are just some of the initiatives that the Government has taken to ensure all-round transformation in the health sector.
There has been a 69% increase in the number of medical colleges since 2014 (from 387 to 655). Of the proposed 22 new AIIMS, 19 are operational. Over 35 crore citizens' digital health accounts (ABHA) have been created. Telemedicine has seen mainstream adoption with 11 crore patients served to date under e-Sanjeevani. Under the Ayushman Bharat Health and Wellness Centre (HWC) initiative, 156,000 sub-centres (SCs) and primary health centres (PHCs) have undergone transformation. A new mid-level health professional, the community health officer, has been deployed. HWCs at SCs are mandated to provide 105 medicines and 14 diagnostic tests, and those at PHCs provide as many as 172 free medicines and 63 free diagnostic tests.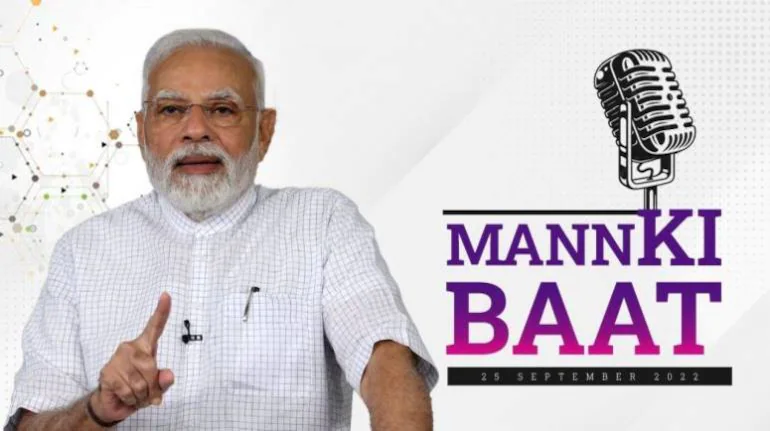 The value of all government schemes is only realized through their last-mile delivery. This requires proactive ownership and participation of the people. In this regard, the Prime Minister has optimally tapped into the potential of radio as a means to engage the masses through the 'Mann ki Baat' program, which, over the years, has had a massive impact in building a healthy nation.
Through this program, he has time and again invoked the idea of good health among people. Prime Minister Modi believes that "Health does not simply mean freedom from diseases. A healthy life is every person's right." He has extensively used 'Mann ki Baat' to spread awareness about the various Government health schemes and how they have benefited crores of people across the nation, particularly in rural areas.
I remember the Prime Minister interacting with the beneficiaries of Ayushman Bharat on 'Mann ki Baat' who expressed their gratitude for making quality healthcare affordable. Such interactions play a key role in boosting the confidence of the potential beneficiaries in availing the benefits of the welfare scheme, propelling India's dream of achieving Universal Health Coverage (UHC). The Prime Minister's announcement of reduced cost of stent implantation and knee surgery and provision of insurance of 5 lakh rupees for treatment to about 10 crore families was heard far and wide. Today, the Ayushman Bharat scheme has facilitated access to healthcare services for over 4.8 crore individuals.
When the Union Government launched 'PoshanAbhiyaan' in 2018, the Prime Minister called for a Jan Andolan to improve nutritional indicators among children and mothers. Since then, many Self-Help Groups and Anganwadi Centres have found unique and targeted solutions to free the children of the nation from malnutrition and stunting. When initiatives like 'Project Sampoorna' from Assam and 'PoshanMatka' from Madhya Pradesh found mention in 'Mann kiBaat' many other state organizations replicated similar models in their region. Not only that, such recognition brought more people into the existing movements by boosting their morale.
India has a long history of traditional medicine, which dates back thousands of years. The government has taken several steps to promote the use of AYUSH systems in prevention, wellness and treatment. 'Mann kiBaat' conversations of the Prime Minister have been instrumental in generating phenomenal awareness among the countrymen about our traditional healthcare systems. This has contributed toward heightened demand for holistic healthcare and a massive increase in the use of AYUSH products. There is now a rising clamor for aligning traditional and modern systems for the larger cause of healthy lives.
A very empowering nationwide impact of 'Mann ki Baat' was observed during the COVID-19 pandemic. From eliciting people's cooperation in wearing masks and social distancing, acknowledging the efforts of frontline workers, to encouraging people to get vaccinated, 'Mann kiBaat' as a medium proved its mettle as a harbinger of hope, resolve and confidence. The Prime Minister provided a strong and decisive leadership with clear guidance for a national response to the COVID-19 pandemic. He used the 'Mann kiBaat' platform to make a personal connect with people as a caring elder of the family in those difficult time.
'Mann kiBaat' has become a powerful tool for building national solidarity for a healthy India. When Priyanka Priyadarshini heard about Ni-KshayMitra on 'Mann kiBaat', she adopted five patients to support them through their journey of recovery!
Prime Minister touched several specific topics related to health in 'Mann kiBaat' from TB to Kalazar and from swachhta to holistic health. He also talked about the sensitive issue of mental health. Prime Minister discussed this 'taboo' topic and encouraged people to have an open conversation and help those in a difficult mental state.
In a recent episode of 'Mann kiBaat', Prime Minister talked about organ transplantation .He inspired citizens to do more to promote organ transplantation. His poignant conversation with two families whose kin donated organs to give life to others brought tears to my eyes.
People have found a friend and a guiding voice in the Prime Minister and when he calls for health promotion and care through 'Mann ki Baat', the nation truly listens and acts.