BY EOK NEWS DESK
JAMMU, JUNE 15: The much-needed and most effective storytelling skill for media students through digital photography marked its beginning at the Department of Journalism and Media Studies, University of Jammu, here today. Journalism & Media Studies Deptt. organises Photography workshop for media students
Two times National Award-Winning, Photography Officer of Public Relations Office, Ministry of Defence, Jammu Shib Narayan Acharya is conducting the two-day workshop on photography, photojournalism and visual storytelling with a special focus on digital photography.
In her welcome address, Dr. Garima Gupta, HoD, Department of Journalism and Media Studies, University of Jammu encouraged the budding journalists to make the best academic use of such workshops that enables them with industry-specific skills. She also said that such initiatives help in establishing the quality of work being done by the media department at University of Jammu. She appreciated the faculty members for initiating ideas that help media students navigate through their journalistic training with excellence.
Prof Sucheta Pathania, Dean, Faculty of Arts, congratulated the Head of Department, Journalism and Media Studies Dr Garima Gupta for always embarking upon ambitious and exciting projects despite being the youngest department of the University of Jammu. In her presidential remark, Prof Pathania told the students the importance of photography and its essential relationship with the profession of Journalism. She emphasized on the use of photos to tell stories effectively.
SN Acharya started the workshop by sharing the history of photojournalism and explained the basic components of a professional camera and scientific principles of photography. He also explained to the students some important 'formulas' of photography and videography that can help in capturing the subject with fine details. Students were given training to cover photo features on day-to-day- situations, with an eye for details that tell a story through multiple dimensions. He also shared his work with the students and discussed the story ideas that lie in the eyes behind the lens along with techniques that help in capturing the best shots.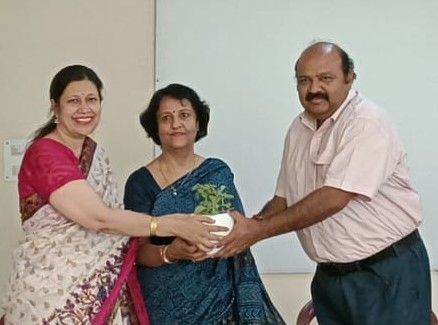 In its commitment to provide hands-on training to the media students, the department of Journalism and Media Studies, JU, is actively inviting experts from the industry on a regular-basis. Such initiatives will create opportunities for media students and help in bringing quality to the field of journalism in J&K. The interactive workshop ended with a round of questions and answers.