This historic decision will prove to be a golden chapter in Administration's effort for social justice, equality, respect, and equal opportunities to all citizens: LG
BY EOK NEWS DESK
SRINAGAR, JULY 03: In a landmark decision, the Government of Jammu Kashmir has approved a proposal for allotment of 5 Marlas of land each to landless PMAY (G) beneficiaries. The decision was taken by the Administrative Council on 21st June 2023. The present allotment restricted to only the left out cases out of Permanent waiting list (PWL) 2018-19, which may later, at the time of launch of next phase of PMAY(G) scheme in 2024-25 be extended to the same categories of landless beneficiaries, who otherwise become eligible for getting housing assistance under PMAY(G) Phase-III. J&K Govt Approves Land to Landless Poor
Following categories of Awaas plus beneficiaries will be considered by the Deputy Commissioner concerned for allotment of land under the JK revenue laws:
i. People residing on State land;
ii. People residing on Forest land;
iii. People residing in Rakhs and Farms land, where construction is not
permitted;
iv. People sitting on Custodian land; and
v. Land allotted to displaced people by Government near Dachigam park
for agriculture purpose, where construction is not permitted.
vi. Any other category of cases who are otherwise eligible for housing but
do not have any land available for construction."
"It is a historic day for Jammu Kashmir and a new beginning for thousands of landless families," Lieutenant Governor, Shri Manoj Sinha said further adding that this historic decision will prove to be a golden chapter in Administration's effort for social justice, equality, respect, and equal opportunities to all citizens.
"This path-breaking decision will not only entitle the landless poor to own a piece of land and have a house but it will also provide them means of livelihood, raise their living standards and realize their dreams and aspirations," the Lt Governor said.
The Lt Governor said the poor section of the society is at the centre of government policies and a substantial population that was devoid of basic facilities and rights even after seven decades of Independence is being brought to the mainstream of development.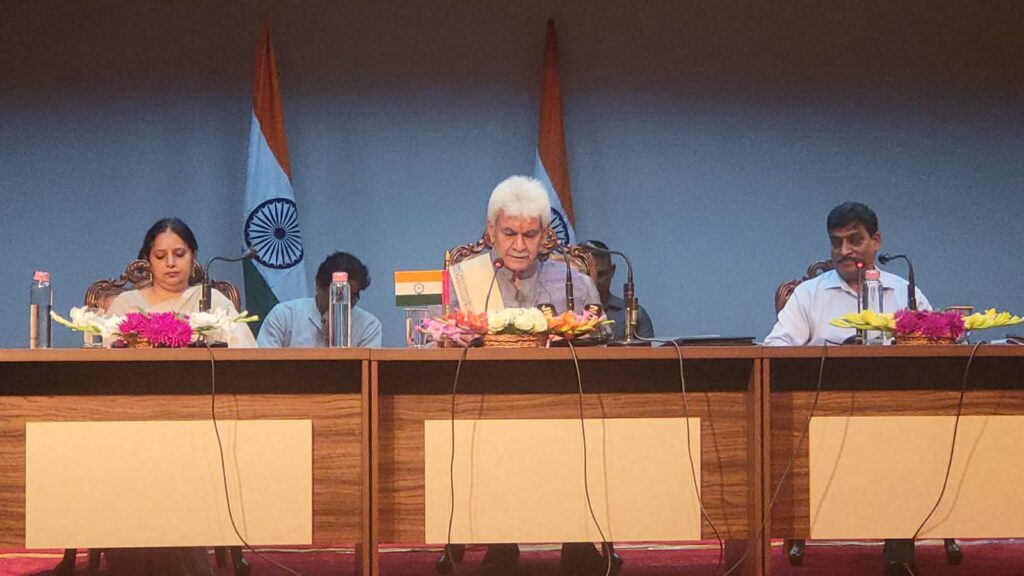 "Jammu Kashmir government is committed to Inclusive development. This move will open up endless opportunities to the poor and downtrodden and with this landmark decision the administration is acknowledging their immense contribution in the task of nation building," the Lt Governor observed.
BACKGROUND
1. Ministry of Rural Development, GoI has on 30th May2023, allocated an additional target of 199550 Houses to UT of J&K for the FY 2023-24 for saturation of the Awaas + list (PWL 2018-19).
2. It has been desired by the Ministry to sanction these houses by 30th June, 2023 and ensure completion by 31st March, 2024.
3. In order to complete the exercise expeditiously, Block Level Camps were organized across the UT from 4th to 10th June, 2023, for obtaining the requisite documents of Households enlisted in AwaasPlus PWL, namely bank details, Aadhaar card, MGNREGA job card, ration card, revenue documents, phone number and a declaration that they have not constructed the house already and they are otherwise eligible under the guidelines of the scheme. These documents are needed, to ensure registration and sanctioning of houses as per assigned targets on AwaasSoft portal.
4. As on date 144385 houses have been registered and 141371 houses have been sanctioned to eligible households enlisted in Awaas + PWL against the aforementioned target.
5. During the field verification of beneficiaries in the aforesaid period of Block Level Camps, it has been reported by the field functionaries that 2711 households enlisted in Awaas + PWL are landless. There are many more, who could not otherwise submit their documents due to various reasons like seasonal migration. If the Government of India extends the timeline, this number is expected to go up by a couple of thousands. Else they will be considered in the next phase of the scheme.
6. PMAY(G) guidelines of Ministry of Rural Development provide for providing land of 25sqmt (Approx one marla) to the landless beneficiaries for construction of PMAY house. But in order to ensure sufficient land availability with them to support their basic living, it has been decided to allot five (05) marlas of land to following categories of persons, who are part of Awaas plus Permanent waiting list (PWL) 2018-19:-
a. Land less.
b. Occupying state/forest or any other land, where construction is not permitted.