RDD rubbishes Mufti's claim
BY EOK NEWS DESK
SRINAGAR, JULY 06: The government with an unwavering commitment to uplifting the underprivileged hereby issues a rebuttal to the statements made by former chief minister Mehbooba Mufti, which are factually incorrect and showcase a lack of understanding of the Pradhan Mantri Awas Yojna (PMAY) Grameen scheme. Government's commitment to poor strongly reaffirmed
PMAY (Grameen) phase -1 started on 1.4.2016 by Ministry of Rural Development, Government of India, under the overall commitment of Hon'ble Prime Minister for "Housing for all by 2022", in which 2,57,349 Houseless cases were identified in J&K in SECC data 2011 and after due verification by Gram sabhas,  136152 cases were sanctioned for J&K,
Per unit assistance of 1.30 lakhs is provided per house by Govt of India under the scheme. Minimum size of the house prescribed is 1 marla.
The Government conducted Awaas+ survey during January, 2018 to March, 2019 to identify those beneficiaries which claimed to have been left out under the 2011 SECC. The data of beneficiaries captured through Awaas+ was utilized to fill the gaps between overall target and eligible beneficiaries made available from SECC Permanent Wait List (PWL)
PMAY PHASE-II(AWAS Plus) Grameen started from 2019 onwards based on survey of 2018-19, (done pan India), in which 2.65 Lakhs houseless cases were recorded in J&K and only target of 63426 houses was given to J&K. These houses have been sanctioned in 2022 only.
This phase of the scheme is getting over on 31.3.24
Based on good performance of J&K in sanction and completion of houses, on 30th May2023, 199550 more PMAY AWAS PLUS houses have been sanctioned as a special dispensation, in order to ensure housing for all for all 2.65 lakhs houseless persons, who were part of PWL2019.
Survey is based on clear guidelines on the basis of following criteria :
a. All houseless
b. Those living in zero, one or two room kachha houses,
c. Multi layered prioritization as defined in section 4 of the scheme guidelines. Guidelines available at https://rural.nic.in/en/documents/guidelines
Those houseless persons who don't have land or clear title of land or have that category of land where construction is not permitted, couldn't be sanctioned house, even if they are part of this Permanent waiting list.
District wise list of such cases are available with the department and may be accessed.
Based of the field level survey, out of 199550, 2711 cases were identified who don't have clear title of land and fall in following catagories:
a. People residing on State land;
b. People residing on Forest land;
c. People residing in Rakhs and Farms land, where construction is not permitted;
d. People sitting on Custodian land; and
e. Land allotted to displaced people by Government near Dachigam park for agriculture purpose, where construction is not permitted.
f. Any other category of cases who are otherwise eligible for housing but do not have any land available for construction."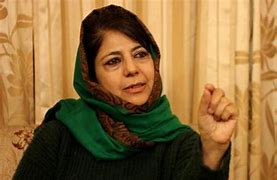 As government can not sanction house to some one who doesn't have land, therefore in order to ensure housing for all, government has taken a policy decision to allot 5 marlas of land to these 2711 cases so that they can get houses. This is indicative of Government's commitment to the poor.
Therefore statement of Ms. Mehbooba Mufti that, government is allotting land to 2 lakh odd persons is factually incorrect and all statements made by her are without having any understanding of the PMAY scheme.
There are 2711 cases which are part of the 2018-19 provisional waiting list of houseless persons of J&K, who were debarred from having house, just because either they didn't have land or the land they have is state/forest/any other category of land where construction is not permitted. Data being quoted by her is of Housing & urban affairs, while PMAYG scheme is of Ministry of Rural Development for rural areas of J&K. Data of PWL may be taken by anyone from Awassoft portal.
J&K Government is committed to serving poor and landless people who were deprived of basic amenities such as a roof over their head through reform measures.