BY EOK NEWS DESK
SRINAGAR, JULY 07: The Divisional Commissioner (Div Com) Kashmir, Vijay Kumar Bidhuri Thursday night took spot appraisal of pace of progress on works conducted under Srinagar Smart City Limited (SSCL) in Srinagar City during a late night tour, conducted here. Div Com Kashmir takes spot appraisal of pace of progress on works under SSCL
The Div Com was accompanied by Deputy Commissioner Srinagar, Aijaz Assad; Chief Executive Officer (CEO), Srinagar Smart City Limited (SSCL), Athar Amir Khan and other officers of SSCL and various line departments besides the concerned contractors.
During the visit, the Div Com undertook tour of various project sites of Srinagar Smart City Limited (SSCL) including Redevelopment of Lal Chowk, Upgradation of Ghanta Ghar, Improvement and Upgradation of Batamaloo Moominabad Road, Improvement and Upgradation of Batamaloo Qamarwari Road, Upgradation of Gole Market Srinagar into High Street and Jehlum Riverfront Development Right and Left Bank.
The Div Com took stock of each project and gave directions with regard to completion of all projects at an accelerated pace. He directed completion of Lal Chowk Project including Ghanta Ghar by ending July 2023.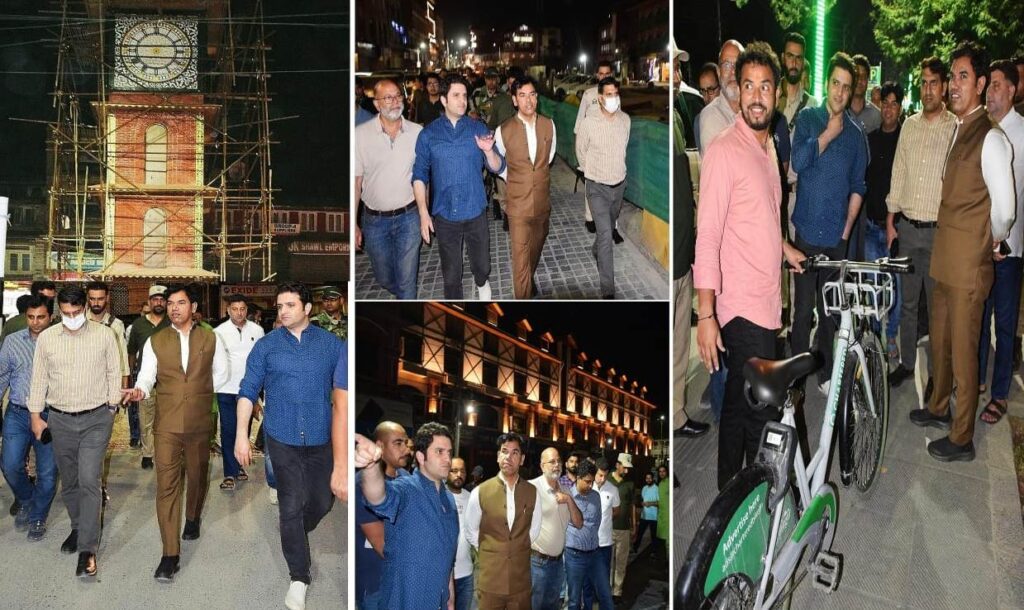 With regard to other projects, Divisional Commissioner Kashmir directed that projects shall be fast paced by ensuring at least two shift systems.
The CEO SSCL briefed the Div Com about the proposals in respect of each project aimed at upgradation of infrastructure, beautification of the city and ease of living of the common citizens particularly with regard to their daily lives, including mobility of each and every segment of society.
The Div Com Kashmir directed that the free movement of vehicles and pedestrians shall be ensured at each junction in view of high footfall and heavy traffic.
He also directed that the storm water drainage in the projects under implementation by Smart City shall be given due priority as the city is prone to water logging and urban flooding.