Street protests, closure of schools, colleges for 150 days a year, stone pelting and separatism have ended: LG Sinha
BY EOK NEWS DESK
SRINAGAR, AUGUST 05: Lieutenant Governor Manoj Sinha today handed over appointment letters to Anganwadi Sanginis and Sahayikas, and specially fitted 2832 scooty's to persons with disabilities across the UT at a ceremony held at KICC Srinagar. Dismantling Terror Networks: Jammu & Kashmir Enjoys Freedom & Security, Says LG
The Lt Governor also launched Mission Youth's Protsahan Scheme and Soft skill Training & Coaching program for Judicial and other Legal Services.
"The unprecedented growth and peace is a testament to the dedication, hard work, meticulous planning and implementation of team J&K. I dedicate these initiatives to the people, who are working with commitment to build Corruption-free, Fear-free and Aatmanirbhar J&K," the Lt Governor said.
The new initiatives of Mission Youth will empower youngsters, help them to become leaders of tomorrow and change makers, he added.
In his address on the occasion, the Lt Governor shared the extraordinary journey of Jammu Kashmir over the past four years.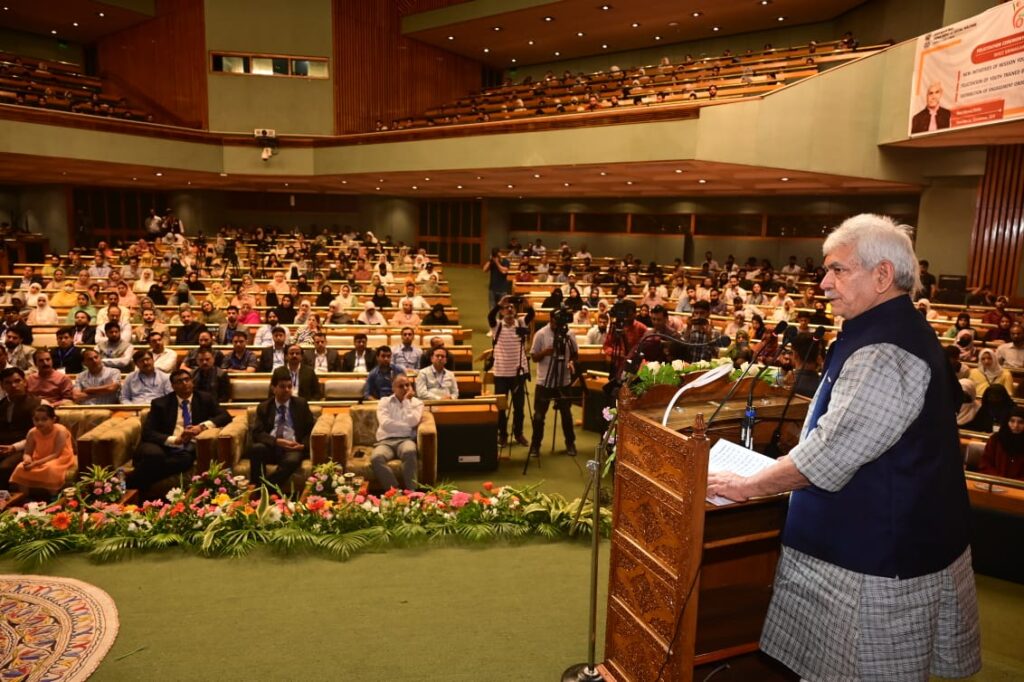 "On 5th August 2019, Hon'ble Prime Minister Shri Narendra Modi ji had ended the discriminatory system which harbored separatism and nepotism. He ushered sustained peace, dignity, security, equal access to resources for new aspirations, new resolutions for J&K's glorious future," the Lt Governor said.
He said the complete dismantling of terror sympathizers and secessionist network has allowed the society to live with freedom, live without fear.
"We have laid a new foundation for the growth and prosperity of J&K. We have ended decades of tyranny and terror ecosystem. Under the leadership of Hon'ble Prime Minister, we have established a lasting peace, which has brought social justice, opportunity and dignity to people," he said.
Reiterating the commitment of the UT Administration to the service of the common man, the Lt Governor said the Government is dedicated to the ideals of social justice and equality. Today, the poorest of the poor feel that the Government belongs to them, he added.
He said, "the biggest change is visible on the ground as people are living freely after so many decades. Street protests, closure of schools, colleges for 150 days a year, stone pelting and separatism have ended".
"Today, youth are going home late at night while holding a guitar and after spending quality time on the riverfront. Pakistan backed propaganda has failed on ground and everyone is enjoying the peace. I believe this is the biggest achievement," the Lt Governor said.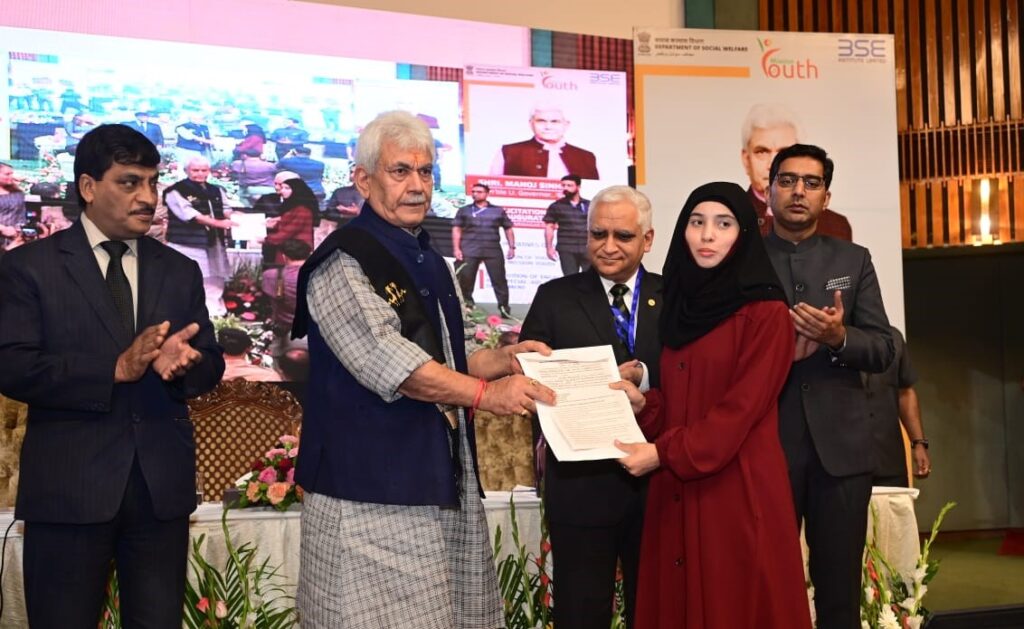 At the ceremony, the Lt Governor also acknowledged the significant contribution of various sections of society in J&K's growth and development. Youth, women and farmers are at the forefront of advancing and improving quality of life and all round development for inclusive J&K, he said.
On the occasion, the Lt Governor felicitated the candidates trained by Bombay Stock Exchange (BSE). Result for PARVAAZ (NEET/JEE) was also declared.
Dr Arun Kumar Mehta, Chief Secretary; Sh. Ambarish Datta, MD and CEO, BSE Institute Ltd and Sh Ashwani Bhatia, member SEBI also spoke on the occasion.
Ms Sheetal Nanda, Commissioner Secretary Social Welfare Department; Sh Vijay Kumar, ADGP Kashmir; Sh Vijay Bidhuri, Divisional Commissioner Kashmir; Sh Shahid Iqbal Choudhary, CEO Mission Youth; senior officials, officials of BSE, SEBI; beneficiaries and prominent citizens were present.