BY EOK NEWS DESK
Srinagar, July 21: A car dealer from Sopore has been convicted by the Srinagar court in cheque bounce cases dating back to 2014. The court found the dealer guilty and sentenced him to one-year imprisonment, accompanied by a staggering fine of 42.80 lakh. Sopore Man Imprisoned, Rs 42 lakh fine in Cheque Bounce Cases
"The court sentenced the accused under Section 138 of the Negotiable Instruments Act, who has been identified as Imtiyaz Ahmad Malla resident of Amargad Sopore, causing financial harm to the complainant Crest Auto Krat Pvt. Ltd. Kunjwani Bypass Jammu following four cheque bounce cases filed against him. The court's ruling has resulted in the conviction of the accused and the imposition of penalty", Fozia Paul, City Judge said in an order.
"The case pertains to the bouncing of four cheques issued by Imtiyaz Ahmad Malla to Crest Auto Kraft for an amount of Rs. 7.80 Lakh, Rs. 7.80 Lakh, Rs. 2.90 Lakh, and Rs. 2.90 Lakh–causing financial harm to the complainant.", order reads.
Moreover, the court has imposed a hefty fine of Rs. 42.80 lakh on the accused. This fine amount to double the value of the bounced cheques amounts, signifying the seriousness with which cheque bounce cases are handled under the law, the order reads.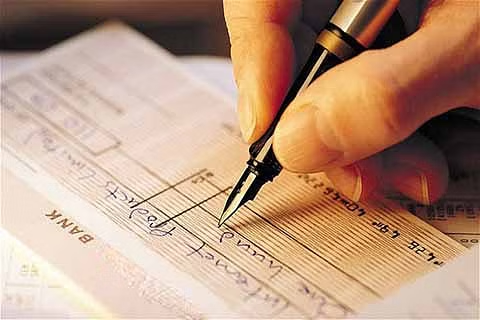 Order further reads that out of the imposed fine, an amount of Rs. 15.6 lakh is directed to be paid to the complainant as compensation for the losses suffered due to the actions of the accused.
The court has further warned Imtiyaz Ahmad Malla that in the event of a default in paying the compensation amount to the complainant, he will face an additional imprisonment of six months.
To ensure the recovery of the imposed fine, the court has authorized the District Collector of Baramulla to execute a levy warrant. This warrant allows the District Collector to recover the fine amount by attaching Malla's immovable property once the appeal period is over, the order reads.