'Extending Support to Kashmir's Cancer Patients, Regardless of Means, for Lodging, Treatment, & Transport'
BY TAUHEED AHMAD
In a remarkable initiative, Apna Ghar Transit Home is redefining the narrative of cancer care. Irrespective of their means, it offers a lifeline of support to patients battling cancer. Located centrally in the stunning landscapes of the Kashmir valley, this facility goes beyond accommodation, becoming a sanctuary where hope flourishes, and burdens are lightened. Apna Ghar: A Succor to Cancer Patients in Kashmir
The program aims to alleviate the challenges faced by cancer patients and their families. Launched as a CSR initiative by the Intas Foundation, Apna Ghar established a network of Transit Homes across India, each offering an array of invaluable services. These services extend far beyond mere lodging; they encompass accommodation, nutrition, transportation, and crucial emotional support for individuals engaged in the arduous battle against cancer.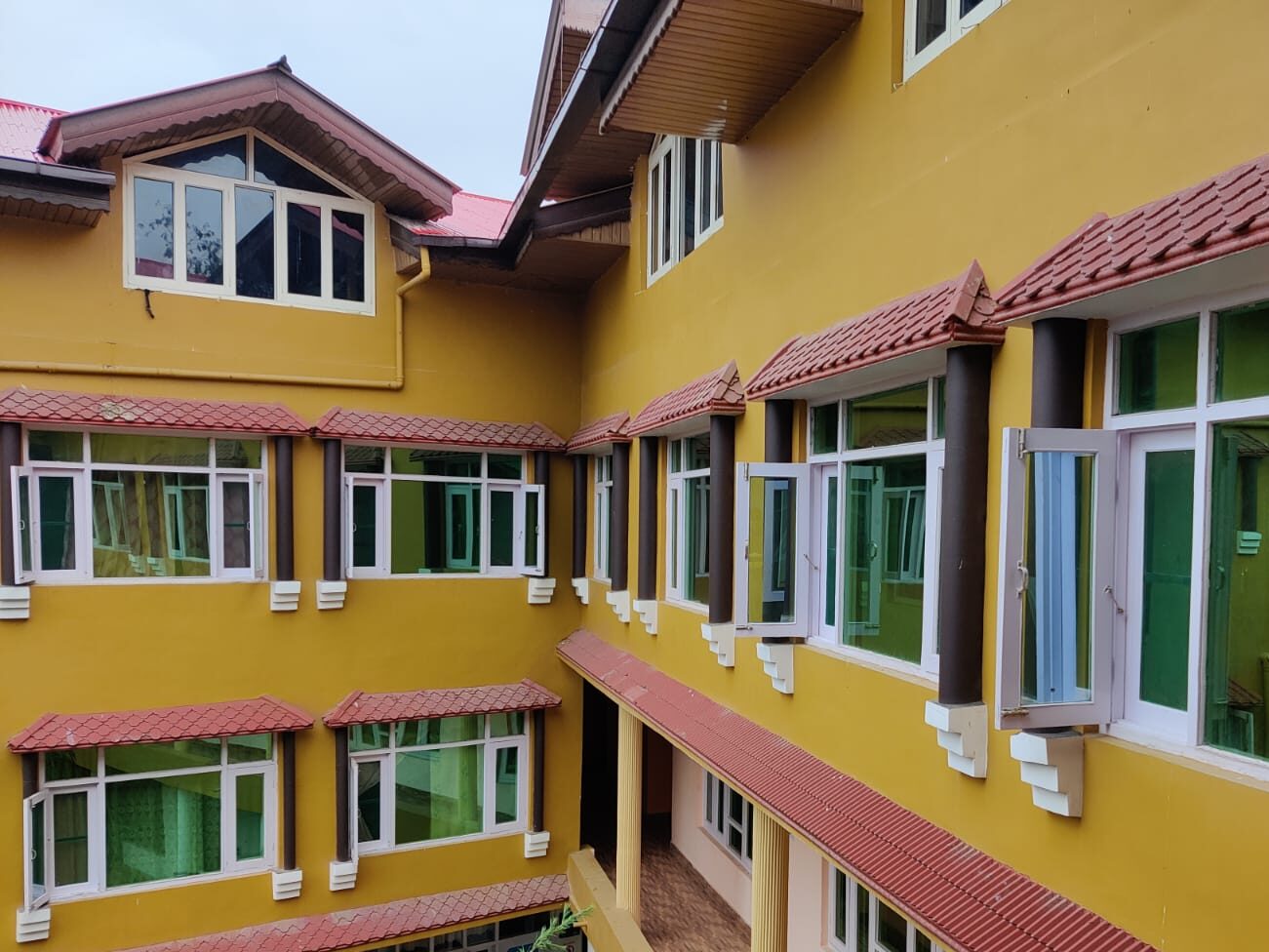 Empowering patients with information about government and charitable programs, Apna Ghar promotes holistic healing through exercises, meditation, and group therapy. A dedicated team of medical social workers ensures the highest standards of care. In a region where cancer care was once challenging, Apna Ghar Transit Home is a testament to unwavering commitment and empathy, where every service becomes a ray of hope for cancer patients in Kashmir.
In Kashmir, Apna Ghar Transit Home stands as an ideal of comprehensive care. Situated in Green Colony Hafiz Bagh, Mallabagh Srinagar, it serves as a holistic support center designed to cater to the diverse physical, emotional, and psychological needs of cancer patients throughout their treatment journey.
Patients, round the clock, access fully furnished rooms ensuring a comfortable stay. Hygienic, nutritious meals are provided, recognizing the role of nutrition in healing. Seamless transportation to and from hospitals overcomes the challenging terrains of Kashmir, allowing patients to focus on treatment. Vital psychosocial guidance and counseling help patients navigate emotional turbulence.
Liyaqat Ali, a cancer patient hailing from Tehsil Budhal in the Rajouri district, currently undergoing treatment at SKIMS Soura, expressed his gratitude for the support received at Apna Ghar Transit Home.
While lauding the efforts, Liyaqat Ali expressed his appreciation for the comprehensive assistance he has received. He mentioned that throughout his treatment, he has had the privilege of a comfortable stay, complete with complimentary amenities such as lodging, meals, and transportation to and from the hospital.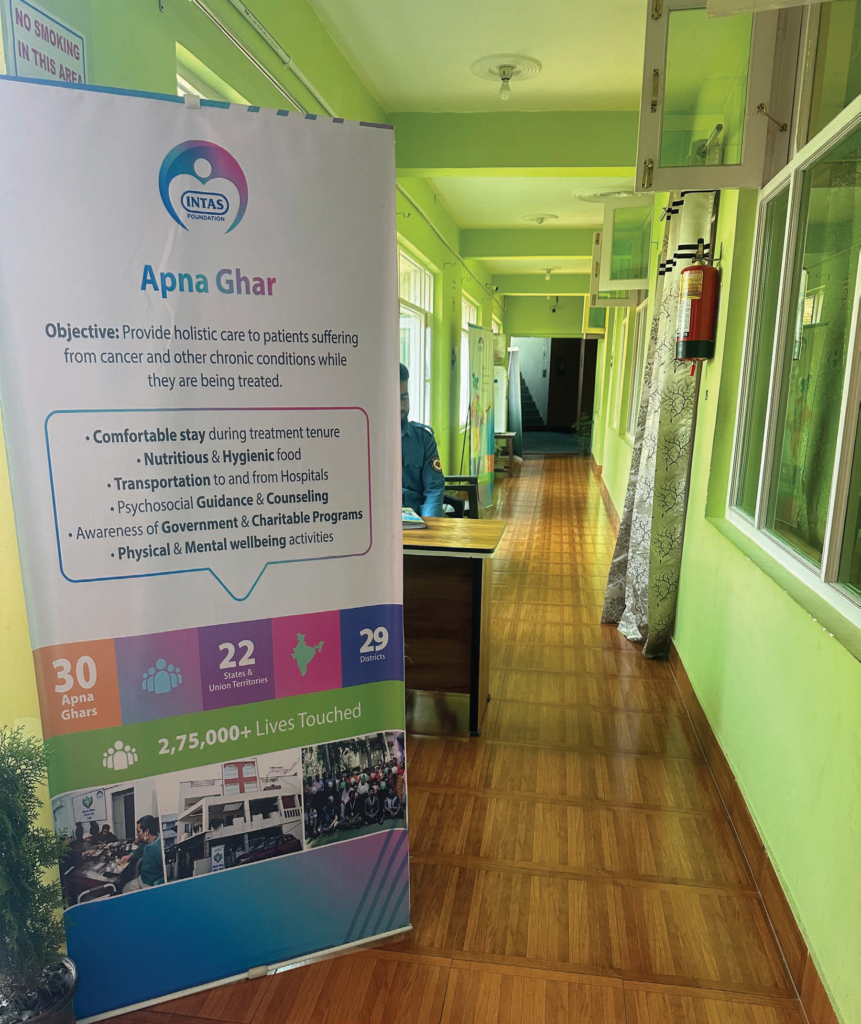 Liyaqat Ali also emphasizes the importance of hygiene and sanitation for patients like him, commending Apna Ghar Home for maintaining high standards in this regard. He further adds that the atmosphere at Apna Ghar is so welcoming that it feels like a home away from home, with care and support that often surpasses what he experiences in his own household.
According to Tanveer Ahmad, Project Associate, Intas Foundation Centre in Kashmir, "Apna Ghar provides round-the-clock access to fully furnished AC and non-AC rooms for cancer patients and their caregivers, creating a comforting second home away from home.
Having provided some context, Tanveer also said that so far, a total of 496 patients have availed services at Apna Ghar, while 812 caretakers have availed the accommodation services from the Transit Home Srinagar.
"The facility also places a strong emphasis on offering hygienic and nutritious meals tailored to support patients' recovery journeys, recognizing the pivotal role of nutrition in the healing process", he added.
Speaking about the transportation challenges faced by cancer patients in Kashmir "Transportation can be a significant challenge for cancer patients in Kashmir due to varied terrains, but we step in to offer seamless transportation to and from hospitals, allowing patients and their families to focus solely on treatment", Tanveer said.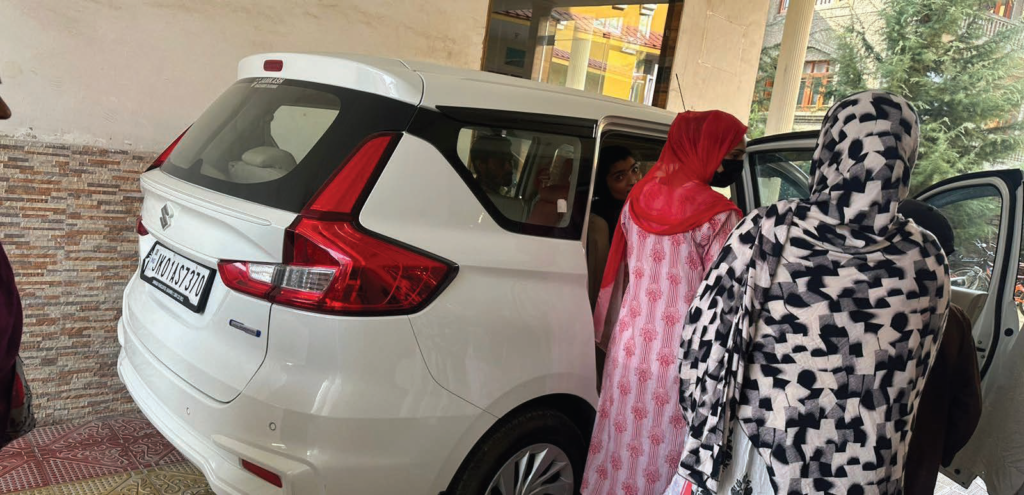 Battling cancer takes a toll emotionally, and Apna Ghar provides vital psychosocial guidance and counseling to help patients and their families navigate the emotional turbulence that often accompanies the illness, he added.
Highlighting the ongoing efforts and future plans, Tanver said that they are currently offering crucial support to cancer patients undergoing treatment at SKIMS Soura and SMHS Hospital. The good news doesn't end there; plans are underway to extend these vital services to the Jammu region, ensuring even more patients receive the assistance they need during their challenging medical journey."
Moreover, Apna Ghar empowers patients by informing them about available government and charitable programs, including financial assistance. It actively promotes holistic healing through activities like Exercises, meditation sessions, and group therapy to enhance patients' physical and mental well-being, fostering a sense of community and positivity among patients, he added.
Complementing the front-facing services, Tanveer said that there exists a critical support system that operates behind the scenes. This invaluable facet involves a dedicated team of medical social workers, bolstered by an experienced national program team.
"Their collective effort ensures that the Apna Ghar Transit Home maintains the utmost standards of care, extending comprehensive support by addressing both the medical and emotional needs of patients and their families. This synergy makes Apna Ghar an unwavering pillar of compassion for cancer patients in Kashmir."
Expanding Compassion Beyond Borders
Focusing on providing supportive treatment and extending our reach to patients beyond the boundaries, Tanveer Ahmad said that Intas Foundation's dedication to evidence-based program design and innovation has driven the expansion of Apna Ghar Transit Home beyond its original limits.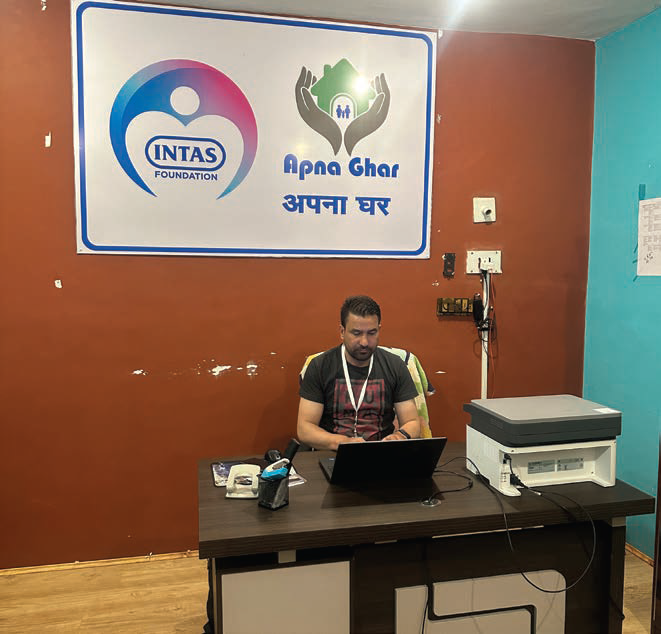 In an impressive demonstration of growth and collaboration, Tanveer Ahmad says "Today, this initiative extends its reach across multiple cities in India, including Kashmir. This expansion is the result of collaborative efforts with hospitals, charitable trusts, and influential social leaders, all united by the common goal of reaching and supporting as many patients as possible".
Abdul Ahad Bhat from Sopore delivers a poignant testimonial, stating, "Upon my cancer diagnosis, I endured a demanding one-and-a-half-month journey to Srinagar for therapy. With limited resources and weakened physical strength, covering travel expenses was daunting. It was only after a fellow patient who had benefited from this transit home; recommended it to me, that I found respite here.
He continued, "I extend my heartfelt gratitude to the dedicated caretakers of this facility. The level of care and support provided here surpasses what is available at my own residence. The team's professionalism and compassionate care treat us patients as their own".
At this transit home, we lack for nothing. Our meals are tailored to our preferences or doctor's recommendations. Most importantly, the worry of transportation for medical checkups is alleviated, as we have access to convenient transport services on-site, he added.
Ahad concluded with an earnest plea, "To those who find themselves in the arduous search for accommodation in Srinagar during cancer treatment, my advice is simple: Skip the search and utilize this cost-free facility."
In emphasizing the fundamental tenets that drive Intas Foundation's unwavering commitment to cancer patients in Kashmir, Tanveer highlighted, 'At the core of Intas Foundation's endeavors in Kashmir are their foundational values, which encompass compassion for all and a dedication to operational excellence. These values serve as the guiding precepts behind the comprehensive and compassionate care provided to cancer patients."
They ensure that patients receive the highest level of support throughout their medical journey, reinforcing Intas Foundation's dedication to making a positive impact in the lives of those facing cancer, Tanveer said.
Expanding reach and impact beyond the Apna Ghar initiative, Tanver Ahmad said that the Intas Foundation is extending its commitment to healthcare and the well-being of cancer patients and communities. Actively involved in community initiatives, blood bank upliftment, and patient assistance programs, these collective efforts are poised to significantly improve healthcare services and enhance the quality of life for individuals and communities throughout Kashmir.
Providing further insight, Tanveer Ahmad stated Apna Ghar Transit Home has garnered widespread acclaim from various quarters, including society, patients, doctors, and hospitals across India, with a notable presence in Kashmir. These testimonials serve as a testament to the program's profound positive impact on the lives of cancer patients and their families.
Looking to the future, Tanveer highlighted that Intas Foundation's unwavering commitment to expanding evidence-based programs signals an ongoing effort to provide support to cancer patients and communities in the Kashmir region. This commitment ensures that the sense of hope remains strong and vibrant for those who are confronting the challenges posed by cancer in Kashmir.