By Rayees Ahmad Kumar
North Kashmir's Bandipora district is renowned across the valley for three distinctive attributes that have made it a cultural and geographical gem: Alim (Knowledge), Aab (Water), and Adab (Good manners). This fertile region has served as the cradle for numerous luminaries, spanning scholars, historians, litterateurs, and politicians. Among its illustrious sons, one finds the esteemed Prof. Rasheed Nazki and the revered Sufi poet, Lala Aragami, both hailing from this very soil. Book Review "Gumshuda Daulat": Tariq Shabnam's Debut Collection Unveils Society's Secrets
Wular Lake, a titan of aquatic splendor and Asia's largest, alongside the enchanting Nishat Park, stand as the district's paramount tourist magnets. Notably, the hamlet of Ajas in Bandipora district boasts Tariq Shabnam, a prominent fiction writer, whose Urdu short stories grace the pages of esteemed Urdu dailies and weeklies, both in the valley and across the nation. His literary compositions serve as poignant mirrors, reflecting the anguish, distress, and melancholy that pervade our society.
Perusing Tariq Shabnam's short stories inevitably tugs at the reader's heartstrings, for they artfully encapsulate the stark realities and societal complexities. In his debut collection titled 'Gumshuda Daulat,' published by GNK Publications Chararishareef Budgam, Shabnam weaves a tapestry of 27 meticulously crafted Urdu short stories, spanning a total of 176 pages. Notably, the book's cover page boasts exquisite design, and its pages, printed on superior quality paper, enhance its overall allure.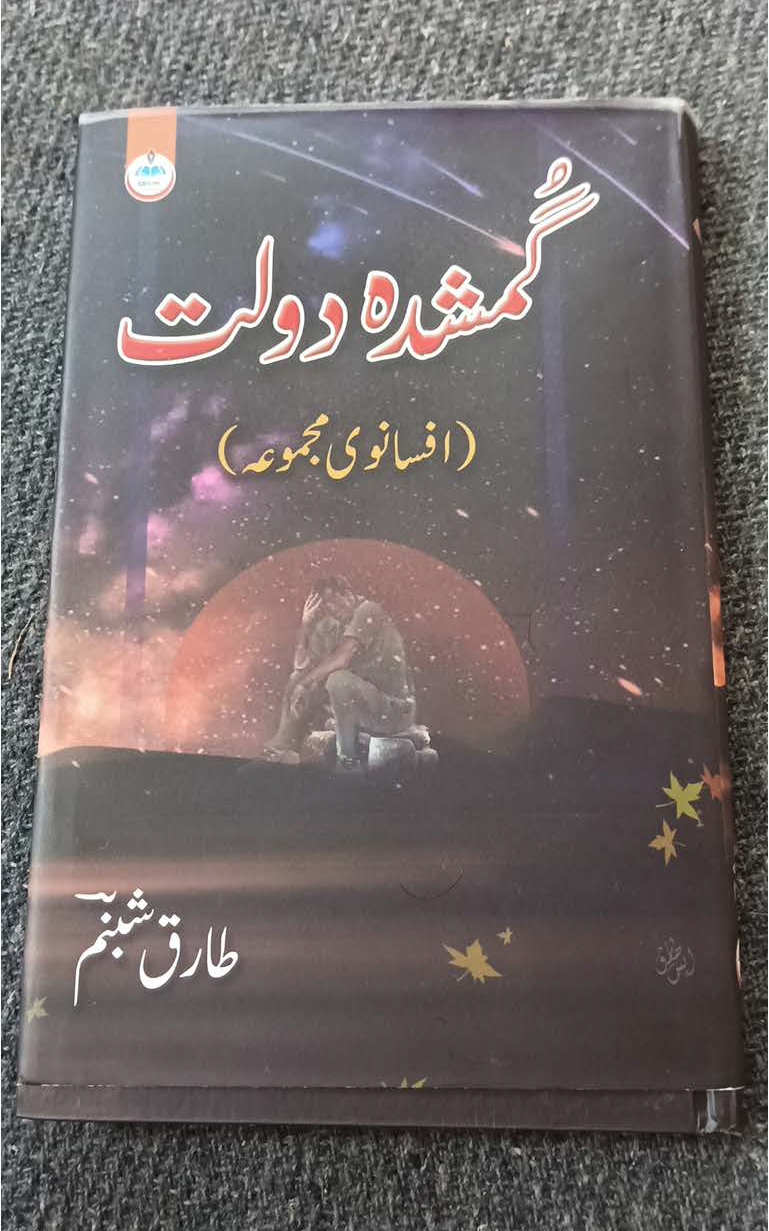 Renowned fiction writer and globally respected critic, Dr. Riyaz Tawheedi, opines, "Tariq Shabnam's short stories poignantly mirror the despondency and sorrow that plague our society. A good short story must encapsulate artistic elements while authentically reflecting societal truths. An analysis of Tariq Shabnam's short stories underscores his prowess, honed through continuous and dedicated contributions to the craft."
Noor Shah, often hailed as the father of Urdu fiction in the valley, resonates with Asmat Chagtai's assertion that he knew Kashmir through Noor Shah sahib's short stories. In the proem of 'Gumshuda Daulat,' Noor Shah asserts, "Urdu short stories are gaining prominence with each passing day, serving as a canvas for writers from every corner of the country to express their emotions, sentiments, and societal concerns. In the valley, several vibrant young fiction writers have ascended to literary fame, with Tariq Shabnam's name being a pivotal inclusion. His maiden collection, 'Gumshuda Daulat,' is an enticing portrayal of various social issues and vices, rendered artistically. I urge you to delve into this collection and share your impressions, as your feedback will undoubtedly encourage the author to forge ahead."
Dr. Ashraf Asari sheds light on the turbulent past three decades that have birthed countless short stories in the valley. He highlights how the younger generation tirelessly endeavors to channel the societal turmoil into their creative works. Tariq Shabnam is no exception, as he strives to unveil the grim tableau of society through his stories. Shabnam himself reflects, "From my earliest days, I harbored a fervent passion for reading and writing. Encouraging feedback for some of my early writings fueled my pen's creativity, propelling me to delve deeper into the realm of creative expression."
Shabnam expresses heartfelt gratitude to luminaries such as Legendary Noor Shah sahib, Dr. Riyaz Tawheedi, Javed Azar, Sheikh Bashir, and Raja Yousuf, who played instrumental roles in realizing his dream of becoming a certified author.
Within 'Gumshuda Daulat,' the opening short story, "Bei Dard Zamana," found on page 12, starkly exposes the corrupt practices prevalent in our public hospitals and the harrowing plight of impoverished individuals trapped in a vicious cycle of misery.
"Aabiro," an artfully composed short story on page 26, showcases Tariq Shabnam's adept storytelling skills, delving into the lives of destitute and economically marginalized segments of society, elucidating the formidable challenges they face in preserving their dignity.
"Dehshath Ke Saye," a gripping short story on page 46, serves as a poignant reminder of the fearful nineties, when even the most desperate souls dared not venture out during the treacherous night hours, when fear reigned supreme.
Another well-wrought narrative, "Intizaar," on page 55, captivates readers with its poignant portrayal of the agonizing wait endured by parents, especially mothers, whose beloved sons have been missing for years, leaving them in perpetual longing.
"Meharban Kaise Kaise," found on page 80, lays bare the harsh realities of corruption within the government sector, with a focus on the power department in the valley, where the vulnerable and gullible bear the brunt of exploitation.
The title story, "Gumshuda Daulat," on page 99, artfully illustrates how materialism leaves even those blessed with abundance yearning for true contentment. General Tom, the central character, embarks on a mission that leads to a profound revelation about the absurdity of modern life, despite its technological advancements.
"Be-Rang," featured on page 111, paints a somber portrait of the daily-rated casual labor class, a neglected segment of society, whose struggles, wounds, and silent pain are skillfully illuminated in Shabnam's narrative.
On page 137, "Bhanwar" narrates the poignant and desolate tales of the valley's half-widows, trapped in limbo, uncertain of their husbands' fates, living a life of perpetual uncertainty.
"Aakhri Jaam," found on page 155, serves as a poignant reminder that mortality is the ultimate destiny for all living beings. The story underscores the importance of a brief yet contented life over a protracted but joyless existence.
The collection also boasts several other captivating stories, including "Kahani Ka Almia," "Shikast," "Bis Saal Baid," "Bhagawat," "Nuskhaye Kimia," each offering profound insights into our social fabric, portraying a vivid reflection of the environment we inhabit.
Tariq Shabnam, like a masterful fiction writer, seeks to remedy the ills that afflict his society, using the power of storytelling as his instrument. He demonstrates the ability to craft extensive narratives across diverse themes while adeptly shedding light on the somber aspects of society. In him, we witness the rise of a towering fiction writer, one poised to reach new heights provided he maintains the same fervor and dedication to his craft.
This collection of Urdu short stories is a precious gift, one that will be cherished and appreciated by aficionados of fiction and Urdu literature. Therefore, I wholeheartedly recommend that budding writers delve into the pages of this book and offer their thoughts in kind. My sincerest well-wishes and good luck accompany Mr. Tariq Shabnam on his future literary endeavors.
The views expressed in this article are solely those of the author and do not necessarily reflect the opinions or views of this newspaper