Doctors Association Kashmir (DAK) took a strong note of higher authorities who are trying to intimidate and muzzle the genuine voice of doctors by coercive tactics. Besides fighting for our long pending genuine demands, DAK will always raise voice against nepotism, favoritism and corruption which is very much rampant in the health department.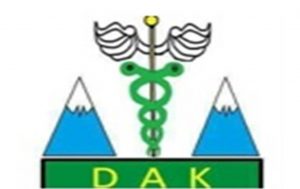 In a statement issued to KNS, Dr Suhail Naik President DAK, said "freedom of speech is a fundamental right and no one can stop us from raising our voice. It is very unfortunate that the authorities have continued their victimization tactics to suppress the voice of doctors.
Dr Mir Mushtaq senior executive member of DAK while referring to the yesterday's episode at Government Gousia Hospital, Srinagar said, "unprecedented visit of DNO to said hospital was to harass and intimidate our senior executive member, Dr Masood Rashid who has been always at the forefront for the campaign against nepotism and favoritism in the department. During his visit to the said hospital, he has intentionally singled out mentioned doctor and has willfully seized his 'casual leave' application.
Dr Arshid Hussain Trag secretary DAK said that, "it will not be out of context to mention that previously DHSK had harassed our four doctors including President and General Secretary DAK, by issuing illegal notices to them in which Dr Masood was further persecuted by serving him illegal charge sheet. It seems higher authorities doesn't like any questions to be asked and show their authoritarian approach by these illegal actions.
Dr Yousuf Tak, convener Jammu and Kashmir Doctors Coordination Committee added that "yesterday's episode if Gousia hospital Srinagar is a blot on the higher authorities of DHSK and we condemn such actions. We warn authorities to restrain from such actions and in future if the previous policies are repeated, we will not remain as mute spectators."
DAK seeks a transparent promotion and posting of doctors based on seniority and wants an end to favoritism and nepotism which is so prevalent and has caused mental agony to the senior and deserving doctors who have been denied same on one pretext or the other.
DAK urges its cadres to remain united to defeat the evil designs of the authorities. DAK urges the Principal Secretary takes a due note of the concerns of doctors.