Discover the enchanting Lal Chowk in Srinagar, where the historic Clock Tower stands tall amidst a vibrant market, offering a glimpse into Kashmir's rich culture and tantalizing local delicacies
By Mool Raj
The Clock Tower, an architectural marvel that stands tall in the bustling Lal Chowk area of Srinagar, was constructed back in 1980, right in the heart of the thriving market of Srinagar. This business hub in Kashmir draws its name from the renowned market square, Red Square, in Moscow. Drawing a parallel between the two locations, a cursory glance at their maps reveals a striking similarity, as both are teeming with numerous shops and places of interest. Travelers flock to this historical monument to immerse themselves in the rich cultural tapestry of Kashmir, meandering through its intricate lanes adorned with vibrant shops and delightful local eateries. While Lal Chowk lacks the presence of a flowing river akin to Moscow's Red Square, it boasts the proximity of the famous Dal Lake. This iconic landmark holds immense symbolic significance, bearing witness to important religious, cultural, and political processions, which are often captured in photographs, forever encapsulating the spirit of the place. Lal Chowk: A Symbol of Resilience and Significance in Srinagar
The market surrounding Lal Chowk is nothing short of magnificent, offering a gateway to explore Kashmir's enchanting local arts, crafts, and socio-cultural fabric through a plethora of exquisite souvenirs. Here, one can savor the authentic flavors of Kashmiri cuisine at renowned restaurants, indulging in the elaborate Wazwaan—a culinary delight—or relishing the offerings of casual Kandirwans, local bakeries, tujji or kebab stalls, and tea stalls that brew and serve tea in traditional samovars, catering to the casual roadside diners. Textiles, leather goods, and dry fruit shops abound, creating a vibrant tapestry of commerce around Lal Chowk. The area also boasts booksellers, jewelers, as well as mobile phone and accessories dealers who have carved a niche for themselves. Moreover, the surroundings of Lal Chowk are dotted with accommodation lodges, catering to travelers and shopping enthusiasts from both within and outside the valley, with options ranging from high-end establishments to budget-friendly ones.
Srinagar's Lal Chowk, owing to its longstanding reputation as a commercial hub and an age-old center of business, has attained a stature akin to New Delhi's renowned Connaught Place. Indeed, Lal Chowk serves as a magnet for both local and foreign tourists, as well as dealers of various commodities who flock here to procure goods. Within India's historical timeline, Lal Chowk holds great significance. It was at this very place in 1948 that Pandit Nehru, the then Prime Minister of India, addressed the people of Kashmir for the first time following its accession to India.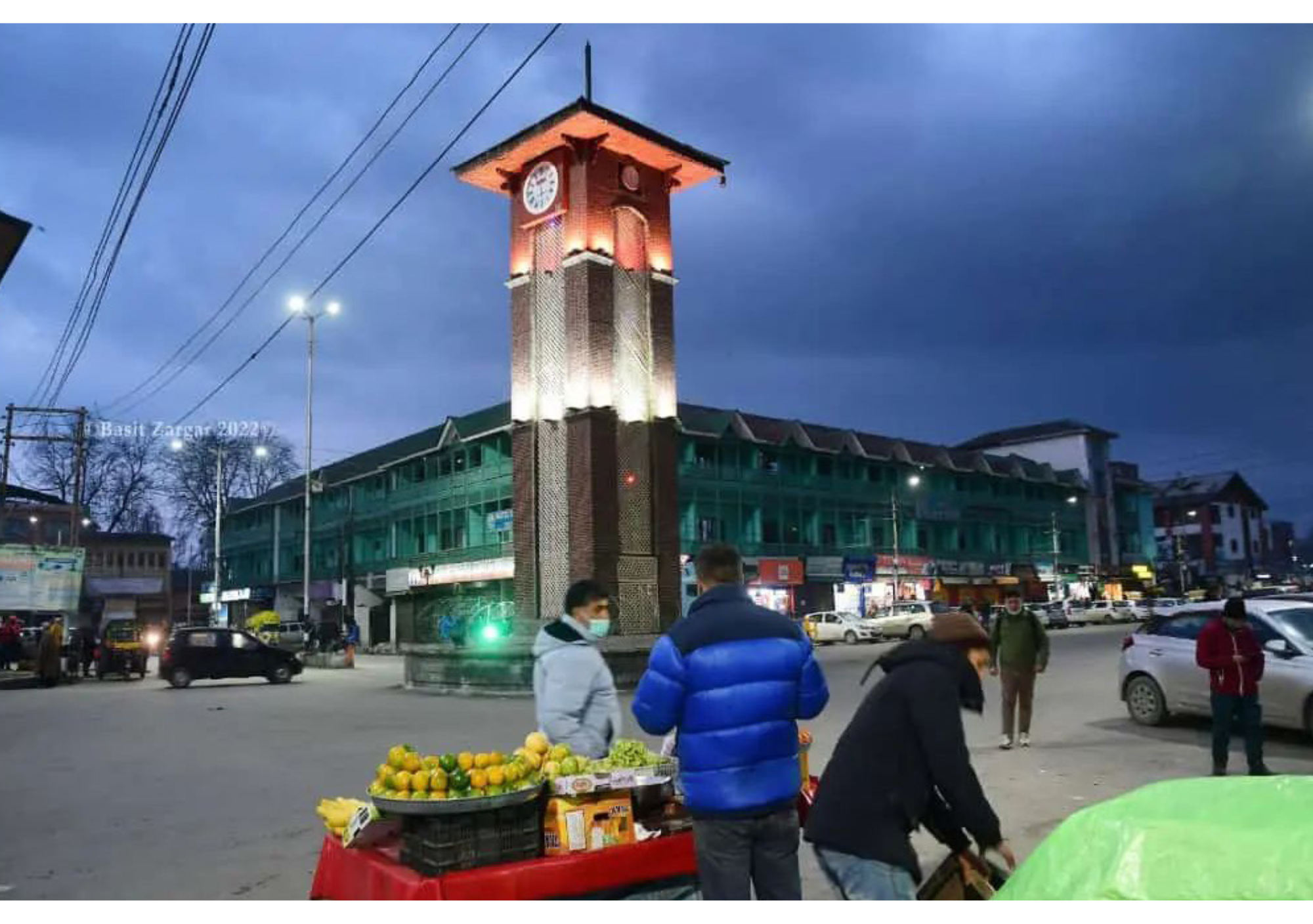 The Clock Tower in Lal Chowk has always held a position of paramount importance, with several notable leaders attempting to hoist the Tiranga (the Indian flag) atop the tower, albeit unsuccessfully. However, on January 26, 2022, during the 73rd Republic Day celebrations, two local Kashmiri Muslim youths, Sajid Yousuf Shah and Sahil Bashir, proudly succeeded in hoisting the Indian flag atop the Ghanta Ghar. Unfortunately, due to the dilapidated condition of the tower, the Tiranga was brought down after a few hours, leaving the Clock Tower in need of repair and renovation. On the momentous occasion of the 73rd Republic Day, the flag hoisting at Lal Chowk was accompanied by the singing of the National Anthem, upholding the pride of India.
Even in contemporary times, Lal Chowk continues to wield paramount relevance politically and economically, particularly for the citizens of this country over the past few decades. Every evening, the red brick tower is bathed in the radiant hues of the tricolor, further enhancing the majestic symbolism associated with this place. Lal Chowk remains a silent observer of the historical, political, and cultural revolutions that have unfolded in the erstwhile state, now a vibrant union territory, serving as a testament to its enduring significance.
The views expressed in this article are solely those of the author and do not necessarily reflect the opinions or views of this newspaper
Blurb
Experience the allure of Lal Chowk in Srinagar, as you wander through its bustling lanes, filled with shops showcasing authentic Kashmiri crafts, textiles, and mouthwatering cuisine