BY AJAZ RASHID
Srinagar, August 12: In a remarkable feat of literary prowess, 23-year-old Sharik Ahmad Mir from Bandipora, Kashmir, has authored a groundbreaking self-help book titled "Addiction Lies," aimed at aiding individuals worldwide in overcoming various forms of addiction. The book, available in over 150 countries and accessible through more than 30,000 bookstores globally, has garnered attention for its comprehensive approach to addressing addiction issues. Bandipora's Young Author Pens Self-Help Book to Combat Addiction & Inspire Recovery
A prodigious talent, Sharik Ahmad Mir, not only excels in the realm of writing but also balances his passion with his studies. An MBA student and prolific author, Mir's journey from the corridors of Space Age Model School Bandipora to the halls of Cluster University of Kashmir has been nothing short of inspiring.
In an exclusive interview, Sharik Ahmad Mir shared his motivation behind penning the self-help book. "I have written four books, both of which have been successfully published," he said. Mir's journey towards writing was borne out of a personal struggle, as he found solace in channeling his pain and reflections into the written word. "This is what I did because I was forced to, and because my pain and reflections motivated me to use writing to purge my mind of its burdens," he added.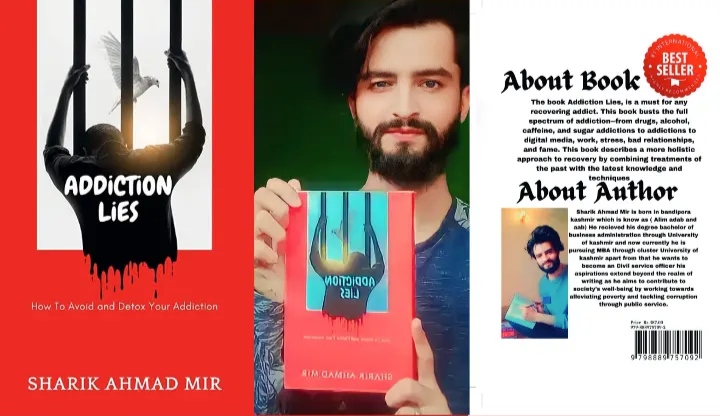 "Addiction Lies" delves into a wide spectrum of addictions, ranging from substances like drugs, alcohol, coffee, and sugar, to modern challenges such as technology addiction, stress, toxic relationships, and the allure of fame. The book introduces an integrative approach to healing, blending traditional and cutting-edge therapeutic methods to offer readers a comprehensive toolkit to combat their dependencies.
Beyond his literary endeavors, Sharik Ahmad Mir is a passionate advocate for self-expression and imagination. "The moment I figured out how to string words together was the moment I knew I had found my calling," he expressed. Mir believes that writing provides a unique avenue for individuals to convey their emotions and liberate their imagination, particularly for those who may struggle with verbal communication.
Aside from his dedication to writing, Mir also possesses fervor for knowledge acquisition. A voracious reader, he indulges in non-fiction works to satiate his thirst for understanding the world around him. He envisions a future in public service, aspiring to alleviate poverty and enhance social infrastructure while combatting corruption.
Sharik's journey from a small town in Kashmir to becoming a globally recognized author showcases the transformative power of self-expression and the determination to overcome personal challenges. As "Addiction Lies" continues to inspire and guide individuals on their paths to recovery, Mir's story serves as a testament to the indomitable human spirit and the ability to triumph over adversity through the written word.