The United States on Friday urged Pakistan to prosecute Hafiz Mohammad Saeed "to the fullest extent of the law", endorsing the Indian view on the Jamaatud Dawa (JuD) chief.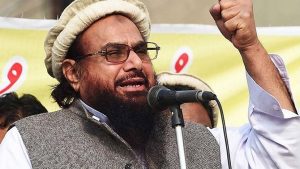 US State Department spokeswoman Heather Nauert during Friday's press briefing was told that Prime Minister Shahid Khaqan Abbasi had recently spoken of Saeed in a courteous tone, adding the suffix sahib(Mister) at the end of his name and making it clear that there are no cases against the cleric.
Nauert rejected PM Abbasi's stance on the matter, saying: "We regard him as a terrorist, a part of a foreign terrorist organisation. He was the mastermind, we believe, of the 2008 Mumbai attacks which killed many people, including Americans as well.
"We have made our points and our concerns to the Pakistani government very clear. We believe that this individual should be prosecuted to the fullest extent of the law."
The State Department spokesperson stressed that Saeed's name is on the United Nation's list of designated terrorists, adding: "He is listed by the UN Security Council 1267, the Al Qaeda Sanctions Committee for targeted sanctions due to his affiliation with Lashkar-e-Taiba (LeT), which is a designated foreign terror organisation."
The Indian Ministry of External Affairs echoed US sentiments, saying, "If somebody is designated [a] global terrorist, it's done based on [a] lot of evidence available in public domain."
"You can close your eyes, pretend nothing happened but they (Pakistan) have to realise what's in front of them and take action against such people," said Raveesh Kumar, the ministry's spokesman.
Hafiz Saeed, who was in November set free from a 300-day-long house arrest, has been repeatedly accused by the US and India of masterminding the 2008 attacks on the Indian financial capital that killed 166 people.
Saeed was declared a global terrorist by the US and UN over his alleged role in the Mumbai attacks. JuD is considered by the US and India to be a front for LeT, the militant group blamed for the attacks.
Earlier this month, the Securities & Exchange Commission of Pakistan prohibited the collection of donations by JuD, as well as several other organisations.