Much has been written about the ice-cold vibes between Deepika Padukone and Katrina Kaif. For the uninitiated, things soured between the two when Deepika's then-boyfriend Ranbir Kapoor cheated on her with Katrina.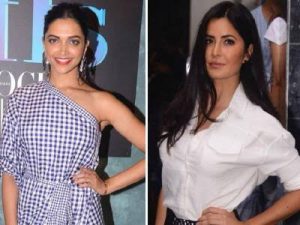 While she has patched things up with her former flame and is on cordial terms with him, she has not yet warmed up to Katrina, if Deepika's recent revelation on a chat show is anything to go by.
ALSO READ: Katrina Kaif's friend says Deepika Padukone is insecure about her?
ALSO READ: Deepika Padukone miffed with Katrina Kaif for stealing the spotlight from her?
"During the Say It Or Strip It segment, Neha (Dhupia, host) asked Deepika if Katrina would be invited to her wedding, and the Padmaavat actor replied with a firm 'No'," a source was quoted as telling Mid-Day.
Katrina is not very fond of Deepika either. Katrina's stone-cold silence when Karan Johar asked her on his show if she considers Deepika a friend spoke eons.
At the time, Deepika had said, "Sometimes you have a certain feeling for other people and they don't necessarily feel the same way about you. But that's okay," adding that she was "extremely fond" of Katrina personally and professionally.
Meanwhile, Deepika's film Padmaavat is currently in theatres and earned Rs 73 crore in three days at the domestic box office. Katrina, meanwhile, will be seen next in Thugs Of Hindostan, which also features Aamir Khan, Amitabh Bachchan and Fatima Sana Shaikh.