Srinagar's Dedicated Blood Donor Awaits Recognition for His Life-Saving Efforts
By Mir Tanveer
Shabir Hussain Khan, a man hailing from Downtown's Qamangar Pora, Kadi Kadal, Srinagar, has emerged as India's one of the biggest blood donors. His journey commenced on 4 July 1980, when a friend in his area got injured while playing football. Without any hesitation, Shabir rushed to the hospital by foot to donate his blood and aid his friend. From Football Injury to Life Goal
From that day on, blood donation became Shabir's life goal, and he has since donated 182 pints of blood, breaking all records at the age of 60. He is locally recognized as the "Blood Man of Kashmir" and has used his popularity to raise awareness among people about the significance of blood donation.
Shabir volunteers with the Indian Red Cross Society, handling a team of 1200 individuals across Jammu & Kashmir, and offering assistance to people affected in earthquake-prone and flood-affected areas. In 1988, he was summoned by Nobel peace laureate Mother Teresa to Kolkata, where he worked with her in slums.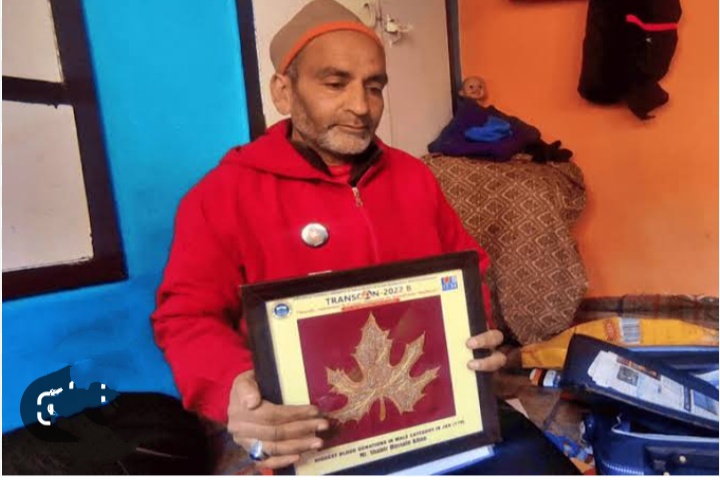 As a dedicated individual, Shabir has set a record by arranging around 1200 blood donation camps across India in a single day. "I have made a record by arranging over One Lakh Fifty Thousand units of blood in single day across India" claims Shabir. "I don't expect any monetary return from any of the organisation in our country and I am doing this for the sake of humanity instead," he added.
However, Shabir claims that the administrative machinery and state of Kashmir have not recognized his efforts in donating blood for human lives and safeguarding humanity. Despite approaching them several times, he was never acknowledged for any award or certificate of appreciation as a donor in Srinagar city. Nevertheless, he remains determined to continue his efforts to serve humanity until his last breath.
According to Khan, a dedicated blood donor should be treated with humility but the things are different from what we expect. "It is ironic that a blood donor only receives a Rs 30 refreshment for their noble act," he stated. "I believe that blood donors should be recognized in society just as much as the administration recognizes other dedicated members who work for the welfare of human beings."
"Besides, our health administration never provides any transport facility for a blood donour and I myself have travelled long distances on bicycle to donate the blood," he narrates.
Shabir also expressed his desire to encourage more people to donate blood and raise awareness about the importance of this cause. He suggests that introducing more incentives, such as gold medals for donating 100 pints of blood, like in developed countries such as the UK, could help to encourage more people to donate blood.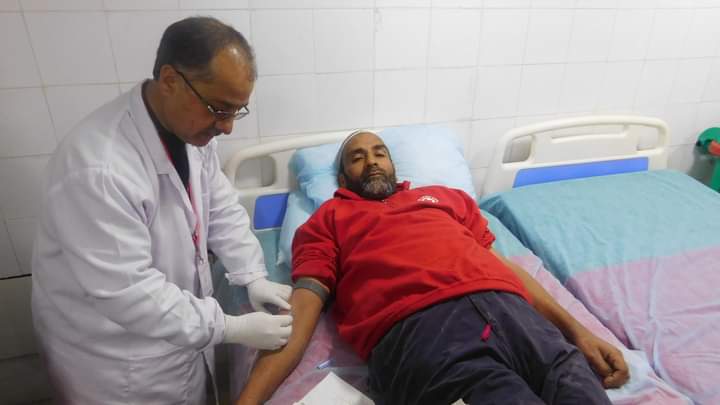 As someone who has devoted his life to serving humanity, Shabir believes that recognition and appreciation for blood donors could encourage more people to get involved in this noble cause. "Serving humanity gives me satisfaction and peace to my personality," he said. "Seeing people in trouble should develop a sense of sympathy, kindness, and generosity towards them to bring them out of troubles by sharing your helping hand."
Shabir advocates for introducing more incentives to raise awareness among people about the cause, citing that in developed countries like the UK, donors receive a gold medal when they donate 100 pints. He believes that appreciating veteran donors would encourage more people to donate blood.
While Shabir may be a messiah for the people in Srinagar and all those whose lives he has saved, his own life is filled with hardships. He lives with his brother, adopted daughter, and ailing mother and works as a manual labourer. He was a papier-mache artist, but with a decreasing demand of papier-mache products, he had to find another way to make a living.
Despite his poverty and family responsibilities, Shabir's never-say-die attitude fuels his desire to do more. He acknowledges that sometimes he feels "crushed" by poverty, especially when he has given so much to society and receives no help in return. Nevertheless, he remains undeterred and motivated to continue serving humanity.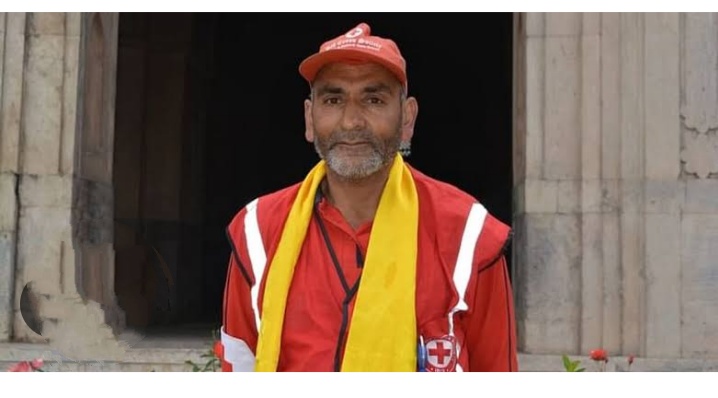 Shabir hopes that his mission of serving humanity will not end and that he has been able to inspire dozens of youths across Kashmir for this noble cause of serving humanity. He believes that this spirit should be encouraged in our society as our healthcare institutions and hospitals are capable of holding blood in their blood banks for patient care services in dire need of blood in critical care conditions.
Shabir asserts that serving humanity brings satisfaction and peace to his personality, and he urges others to develop a sense of sympathy, kindness, and generosity towards people in need. His blood donation spirit has brought smiles to hundreds of faces when their loved ones received timely help in providing blood to the needy ones.