BY EOK NEWS DESK
SRINAGAR, JUNE 23: Union Department of Administrative Reforms and Public Grievances (DARPG), V Srinivas, today chaired a meeting regarding implementation of Mission Youth in Jammu and Kashmir during hi visit to the Union Territory. Union Secretary DAPRG chairs meeting regarding implementation of Mission Youth in J&K
V Srinivas had detailed discussion on impactful initiatives of Mission Youth and their contribution towards empowering and engaging youth of the region. He appreciated the efforts and resources being steered by Mission Youth for effective youth engagement and outreach in J&K. He expressed optimism that the youth of J&K would emerge as ambassadors of peace and prosperity for the entire country.
He deliberated on diverse range of initiatives being implemented by Mission Youth including livelihood generation schemes, education programs, skill development besides sports and recreation activities.
Various officers, officials and beneficiaries of Mission Youth along with representatives from different departments were present in the meeting including Secretary Tribal Affairs Department and CEO Mission Youth, Dr. Shahid Iqbal Choudhary, Secretary, Youth Services and Sports, Sarmad Hafeez, Secretary, Labour and Employment, Rehana Batul and Deputy Commissioner Bandipora, Dr. Owais Ahmad.
Dr. Shahid Iqbal highlighted the positive outcomes of these initiatives emphasizing their significance in empowering the youth of Jammu and Kashmir. He provided valuable insights into the structure, objectives and functionality of Mission Youth, offering a comprehensive understanding of the organization.
During the meeting, CEO Mission Youth elaborated on the strategic intervention areas where the program has made a substantial impact. These areas encompass market-driven skilling, psycho-social rehabilitation, livelihood generation, education and career counselling, and social engagement through sports and recreation. He also emphasized the pivotal role of Mission Youth in the tourism sector, showcasing how the digitization of schemes has facilitated efficient implementation. He expressed gratitude towards the nodal department for their consistent support, acknowledging their indispensable role as pillars of Mission Youth.
DC Bandipora, who serves as the chairperson of District Level Task Force (DLTF) for Mission Youth, shared his experiences highlighting the unwavering support provided by the CEO Mission Youth. He emphasized how Mission Youth has played an instrumental role in equipping youth from remote areas with the necessary skills to secure their livelihoods. The training programs conducted in hospitality and soft skills have been particularly impactful, empowering youth to maintain and manage homestays and collaborate with leading online hospitality portals, he added. The youth volunteering program was highlighted as an effective means of instilling a sense of responsibility among the youth.
Additional District Development Commissioner (ADDC), Kulgam, provided insights into development of playfields at the panchayat level, promoting youth engagement and encouraging healthy recreational activities. Additionally, drug de-addiction programs have been organized at the panchayat level to raise awareness about the hazards of substance abuse among the youth, he added.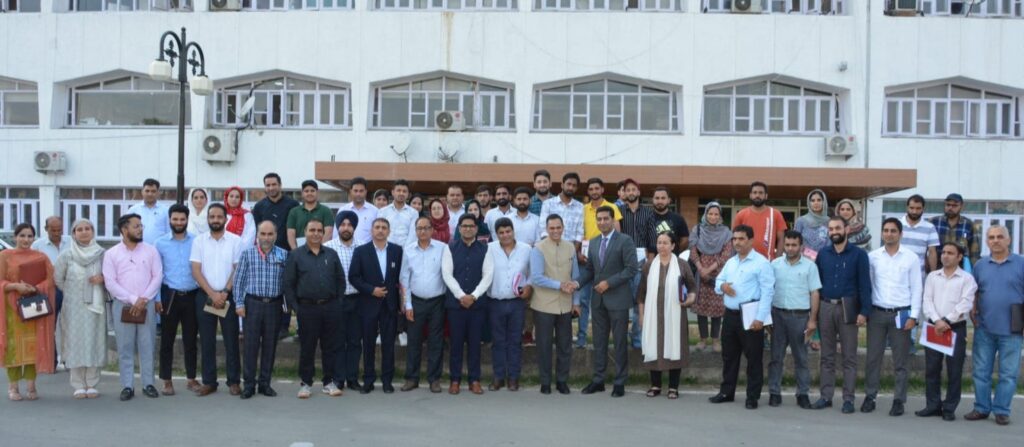 The meeting also shed light on the crucial role played by the Entrepreneurship Development Institute (EDI) in empowering and training youth under the Mission Youth program. Beneficiaries of Mission Youth undergo a ten-day training program at the EDI, where they receive comprehensive training encompassing skill development and the preparation of Detailed Project Reports (DPRs).
Secretary, Youth Services and Sports, speaking at the meeting, emphasized that Mission Youth is transforming the youth of Jammu and Kashmir from job seekers to job providers. The program has become a guiding light for the youth, nurturing their progress and development. he added.