BY EOK NEWS DESK
Anantnag, Oct 07: In a commendable endeavor to preserve the natural splendor of Nature, the 164th Battalion CRPF undertook an ambitious cleanliness drive at Margan Top, District Anantnag, J&K today. This initiative comes on the heels of impassioned pleas from concerned tourists who were dismayed by the extent of litter and waste destroying its pristine beauty. CRPF Collaborates with Tehsildar Larnoo & Eco Club HSS Larnoo to Revive Margan Top's Natural Splendor
Last week, while the troops of the 164th Battalion CRPF were actively participating in the Swachh Bharat Abhiyan in Kokernag, a heartening display of public concern unfolded. Tourists, in great distress, approached the CRPF troops, expressing their apprehension about the deteriorating condition of Margan Top due to rampant littering.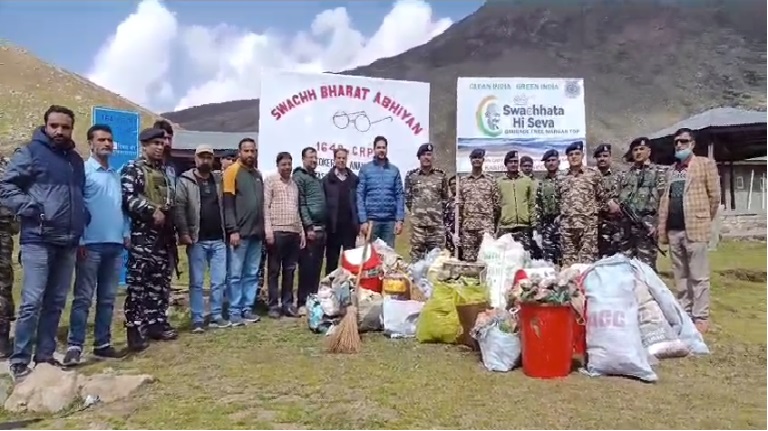 Responding promptly to these concerns, the 164th Battalion CRPF initiated dialogues with higher authorities and local state officials. This concerted effort has culminated in the "Clean Margan Top Drive," a testament to the CRPF's unwavering commitment to environmental preservation and restoration.
Aligned with the Government of India's flagship program SWACHH BHARAT ABHIYAN under the visionary leadership of Prime Minister Shri Narendra Modi, this initiative signifies the CRPF's dedication to the national vision of cleanliness and sustainability.
At an astounding altitude of over 12,000 feet, the CRPF troops embarked on this noble mission. Their efforts will extend beyond a mere cleanup, as they also plan to conduct awareness campaigns targeting both tourists and local residents. This multifaceted approach aims to instill a sense of responsibility for responsible waste management, ensuring that Margan Top remains a jewel for generations to come.
The "Clean Margan Top Drive" serves as a heartening example of collective action for the betterment of our environment and reinforces the CRPF's commitment to safeguarding our natural treasures. It is a testament to the power of community engagement and the importance of preserving our Nation's natural beauty.