BY EOK NEWS DESK
Summer-capital Srinagar was on cynosure last week as it witnessed Muharram 8 processions after a gap of almost 34 long years. The man on ground, who actually made the things easier for the administration and every other stakeholder with his sheer acumen and caliber, has been the incumbent Senior Superintendent of Police Srinagar Rakesh Balwal. SSP Srinagar Unveils Insight: Police Uniform Reflects Public, Policing Echoes Societal Dynamics
Buoyed with the successful conduct of the procession, SSP Rakesh Balwal nevertheless has been in all praise for the participants of the historic rally who according to him cooperated well with the law-enforcement agencies till the culmination of the procession.
In the interview, the SSP candidly responded to a host of questions, shedding light on key matters that hold significance within the region and beyond. Here is the full interview.
i) How far are you satisfied with the overall prevailing situation in Srinagar?
SSP: I am pretty much satisfied over the prevailing peaceful situation in Srinagar. The credit for all this goes to the common masses, for they have been cooperating quite well and trusting us a great deal. I personally am trying my best to maintain the best possible friendly approach towards the public and involve them as equal stakeholders in all important matters – which has been yielding us fruitful results. There used to be a lot many unwanted things happening here, which fortunately hasn't been the case anymore. I can say with surety that there isn't any safe haven left for any miscreant in the City.
ii) On one hand, while we are witnessing a fair decline in street violence, there nonetheless is a steep surge in cases involving crimes of different nature including domestic violence, harassment of female gender in public places and educational institutions. Your thoughts on it?
SSP: There are two facets to it – One is that wherever any human society exists, the crimes take place as sort of a human nature, but the most important thing is that no crime be left hidden. Whenever one is wronged, he/she should have a belief and trust that there is someone on his/her back to act on his/her behalf and we as Police have over the time been successful in gaining this trust and more so are mandated by the State to attain this objective. The other facet to this is that there were different sorts of crimes happening over the years and media coverage would be given mostly to these crimes only and many of now highlighted crimes used to remain in oblivion from the public. Now that the situation has witnessed improvement, the other crimes have come to light, making us believe that there is some spurt, which otherwise isn't. I have always believed in dictum that Police is nothing but Public in uniform and Policing is reflection of any society in a particular time & Space!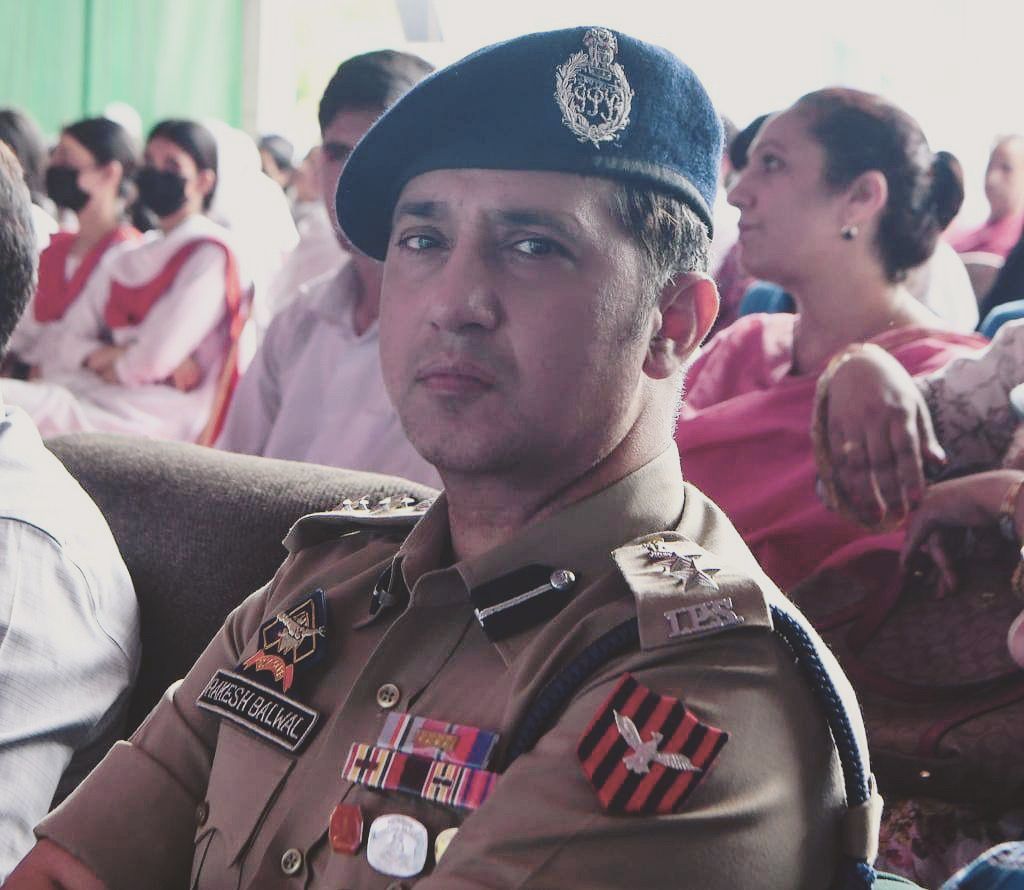 iii) How has Srinagar Police fared in its pursuit to eradicate the drug menace in the first seven months of the ongoing year?
SSP: We have been more active than ever to curb the drug menace and have achieved great success in our endeavor so far. Regarding the first seven months of the ongoing year, a total of 72 cases have been registered in which 127 have been put behind the bars. A total of 12 persons, out of which 10 under PIT and 2 under PSA, have been detained. We already have produced chargesheets in 44 cases involving 73 persons.
Brown Sugar weighing 80.32 grams, Heroin 12.14 Kgs, Charas 8.023 Kgs, Fukki 2.5 Kgs, Banned Syrup 1325 bottles, Banned Capsules/ Tablets 40872, Ganja 5.66 Kgs, Bhang 53.05 Kgs and an amount of ₹ 24,28,120 illegal cash earned from such activities has been recovered till July 31, 2023.
There isn't any easy availability of drugs in the City as of now and most peddlers are behind bars. We have even taken action against pharmaceutical shops to selling any banned drug or medicine.
iv) Hailed as a historic decision by cross sections of the society, the summer capital witnessed Muharram 8 procession after an impasse of 34 long years. What actually motivated the administration and law enforcement agencies to give a go ahead for the procession?
SSP: It was a collective decision by the administration and law enforcement agencies to allow our Shia brethren to conduct the procession. We had it in a calm and peaceful way from beginning to end which is a great omen that things are changing for the better and the dividends of peace are clearly visible now.
v) With the Muharram 8 procession culminating peacefully, why weren't the Ashura procession allowed on its original route – the route banned post 1986?
SSP: The route of Muharram 10 would run from Aabi Guzar, Ganpatyar Barbar Shah, Baba Demb and Downtown and had to pass through some sensitive localities and it is a very long route. Given the vastness of the route and sensitivity of the areas, we were apprehensive there might be some sectarian clashes. Taking a few of these things into consideration, we didn't stop but re-routed this procession to a route that had been used in the recent past. Whenever the perception about sectarian clashes eases out, the conduct of this procession may also take place on the longer route also.
vi) We off and on get to hear about the closure of historic Jamia Masjid here. Why at a time when there is a 'peaceful situation' those prayers are not allowed in full strength at the mosque?
SSP: Jamia is fully open; it was closed only for Eid prayers this year owing to input of clashes. There even were Shabb (nightlong) prayers at the mosque this year. Jamia is open for prayers on every Friday also and it is a wrong statement of many that Jamia is closed for any sort of prayers. Anyone can go there and there isn't any restriction for any number of people who may want to pray there. As said, it was only closed for Eid prayers as we had inputs that some miscreants may try to disturb the prevailing peaceful atmosphere there. We had also requested the Jamia management to reschedule the timing of the prayers, which however they didn't heed to request.
vii) We have been witnessing a steep surge in Cyber-related crimes, how Srinagar Police in particular is making sure that people are protected from such things?
SSP: I concede there has been an exponential increase in the Cyber-related crimes. We frequently have people here with complaints related to the diverse nature of such crimes, especially involving young girls and online scams. We on our part are actively working to ensure that such complainants get justice and that no girl is harassed or no hard earned money of our citizens is looted by anyone. Our sensitivity towards the Cyber-related crimes can be understood by the fact that, our Cyber Police Station has an SP ranked officer as SHO assisted by DySP and 4-5 inspectors.
vii) There have been few politicians, among whom included a former CM, claiming that they weren't allowed to visit the graveyard of July 13 martyrs. How true are these claims?
SSP: It is a day which the people used to celebrate here. We had inputs for the very day that law & order situation may arise, that is why we had to go for the measure to stop the people from visiting the venue.
viii) How is Srinagar Police making it sure that transparency of work and conduct is maintained in police stations?
SSP: We have put in system checks and balances to see that transparency of the highest standard is maintained across all the Police Stations. We have met great with success in our endeavors on this front also. Many times we have issued through police media centers and Twitter asking the common masses to report any corruption by any officer in their respective areas. Dedicated helpline to combat corruption is there. Transparency in policing has been my focal point in my tenure. There were some challenges posed by certain vested interests that had historically been benefited from working under a veil and by condoning misdemeanors by subordinates. The policy of Honesty is the best Policy is giving rich dividends to us.
Credit for this interview goes to GNS for their original reporting